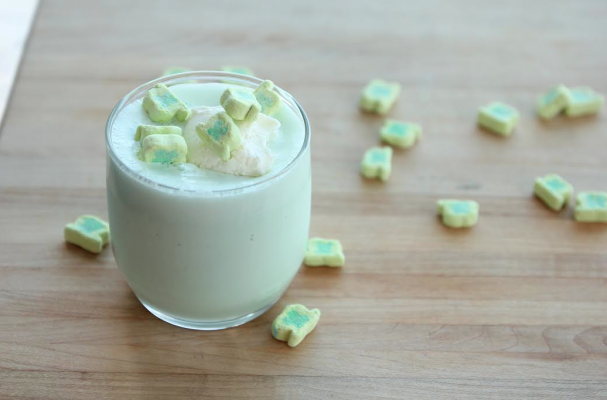 A Saint Patrick's Day celebration would not be complete without a shamrock shake. This minty green frozen treat can be tailored to any diet (even vegan), with or without booze, and even slightly on the healthy side. More importantly, this shake is about having fun and being festive on this Irish holiday.
Boozy Shamrock Shake
Photo Credit: Ann
Ingredients:
1 pint vanilla ice cream
1/2 milk (any fat content will work)
1 shot (1 oz.) Irish whiskey
1 shot (1 oz.) Irish cream (such as Bailey's)
1/2 shot (1/2 oz.) creme de menthe
green food coloring
whipped cream
Directions:
Step 1: In a blender, add vanilla ice cream, milk, creme de menthe, whiskey and Irish cream. Mix until well combined.
Step 2: Pour into serving glasses and top each with whipped cream and garnish of your choice. Serve immediately.
Vegan Shamrock Shake
Photo Credit: Jocelyn Saurini
Ingredients:
3 cups non-dairy vanilla ice cream
1 1/2 cups almond milk
1 tsp peppermint extract
a few drops of green food coloring
Directions:
Step 1: Mix all ingredients together in a blender and puree until smooth and creamy. Serve right away.
St. Patrick's Day Yogurt Shake
4 servings
Courtesy of Yoplait
Ingredients:
2 containers (5.3 oz each) Yoplait® Greek Vanilla Yogurt
1 pint (2 cups) vanilla ice cream
1/8 teaspoon mint extract
5 drops green food color
Directions:
Step 1: In blender, place all ingredients. Cover; blend on medium speed until smooth.
Step 2: Pour into 4 glasses. Serve immediately.
Step 3: For added fun, top with whipped cream and Lucky Charms®.
Image Sources:
Want more from Foodista? Sign up below!