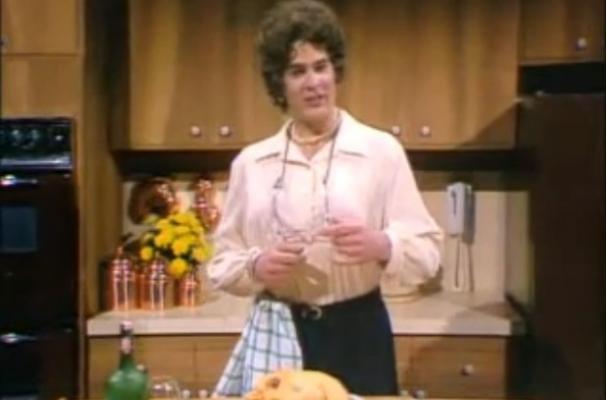 These Julia Child parody videos use humor to show reverence to the unforgettable chef's utter dominance of pop culture. With successful ventures in every form of media imaginable, Child will always be at the forefront of modern cooking culture. The following spoofs pay respect to Child's signature demeanor, zest for cuisine and impeccable sense of humor.
1. The French Chef on "Saturday Night Live": This classic "Saturday Night Live" sketch from 1978 features Dan Aykroyd as Julia Child. The cooking show goes awry when the famous chef sustains a cut on the finger.
2. Julie & Julia, a Kitchen Scramble: This Punchy Players parody video features convincing impressions of Julie Andrews and Julia Child as they prepare, of all things, tofu scramble.
3. Julia Child on "Good Morning America": This parody video by YouTube user barbanna92 reworks a "Good Morning America" appearance Child did on Jan. 14, 1987, infusing the original with some creative edits that are sure to fool you at first.
4. Robin Williams on "Mork & Mindy": The inimitable Robin Williams tackles a zany parody of Julia Child for "Mork & Mindy." Skip ahead to 3:15 to get the laughs going:
5. Julia Child Burns Food: The final video in this list is from Julia Child herself. She burns a souffle and a plate of food for Phil Morrison, the host of 80s science program "Ring of Truth," to produce carbon. The panache with which Child shows off each burned dish is a perfect example of her likability and sense of humor.
Image Sources:
Categories: