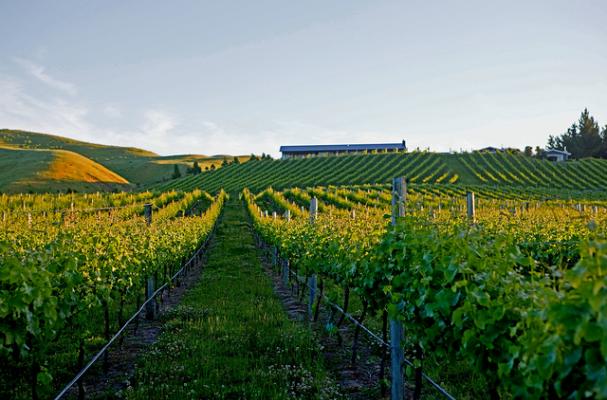 There are many refreshing examples of New Zealand Sauvignon Blanc, but The Supernatural Hawke's Bay Sauvignon Blanc is a deliciously distinct bottle to seek out. Typical New Zealand Sauvignon Blanc is light, zesty, and snappy. The Supernatural, however, is golden in color and has much richer texture. It looks and tastes different, but why? Is it blended with Semillon? It's a grape that adds depth and width to Sauvignon Blanc, most famously in Bordeaux. Maybe a light touch of oak aging? Answers, please! Fortunately I was able to turn to Winemaker Gabrielle Simmers, who was gracious and enlightening when it came to my questions and armchair winemaking analysis.
With New Zealand Sauvignon Blanc coming most famously from the Marlborough region, I figured the Hawke's Bay location had something to do with it. The French have a concept called terroir, which takes into account the natural environment in and around the vineyards that give wines a distinct sense of place and uniqueness. Simmers finds that terroir plays a major role in creating The Supernatural. Noting my observations on the texture and color of the wine, Simmers responded, "The texture and color are due to the terroir, which ensures small berries with thick skins and lots of flavor." What makes the terroir in this particular area notable is that unlike most vineyards in New Zealand that are planted on flat land, Simmer's vineyard is on a north-facing hillside site. She finds that because of this "...the wine is closer to a French style and I think the aroma and flavor profiles are far more interesting." Simmers also farms organically.
But it's not just vineyards and farming practices that make The Supernatural distinct. It's also the winemaking. Rather than use oak to impart richness, Simmers stirs up the spent yeast and grape solids that settle to the bottom of the steel tanks of wine. Called lees, these particles impart extra flavor to the wine. Simmers elaborates: "I harvest the fruit at full ripeness and after ferment I lees stir to enhance that texture. The vineyard has naturally spicy, smoky notes so those together with the lees contact give the feeling of something like oak treatment without the oak, which I think is a nice middle ground. Gives that full bodied feel without all the oakiness." (And when I read that last sentence, I think about getting a mountain of crab to go with this Sauvignon Blanc.)
And with a winemaker like Simmers who believes that "simplicity is the key to wine production," it makes sense that The Supernatural would be simply sealed with a bottle cap.
Image Sources: