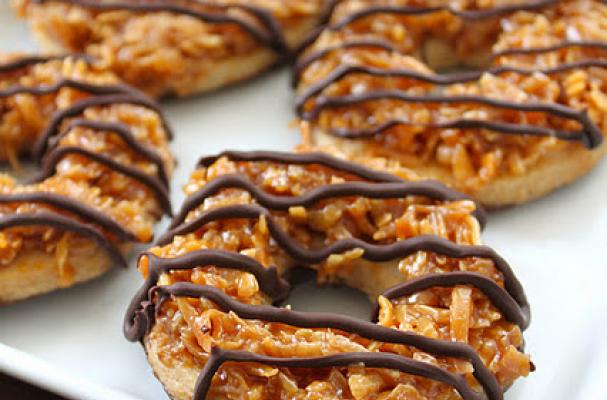 Homemade Samoas from The Little Epicure are just as delicious as the Girl Scout originals. With all the controversy surrounding the organization, it's best to stick to your own kitchen and make these coconuty cookies yourself. For those of you who have not had a Samoa cookie, it is a buttery shortbread cookie topped with coconut caramel and a drizzle of chocolate. Homemade Samoas are simply irresistible.
Ingredients:
Cookie:
1 cup unsalted butter, room temperature
1/2 cup granulated sugar
1 tsp vanilla paste
2 cup all-purpose flour
1/4 tsp baking powder
1/4 tsp baking soda
1/2 tsp salt
1 1/2 Tbsp whole milk
Caramel:
1 cup granulated sugar
6 Tbsp unsalted butter
1/2 cup heavy cream
pinch of salt
3 cups sweetened dried shredded coconut, toasted
Chocolate drizzle:
10 oz dark chocolate, chopped
For full recipe instructions, click here.
Image Sources:
Categories: