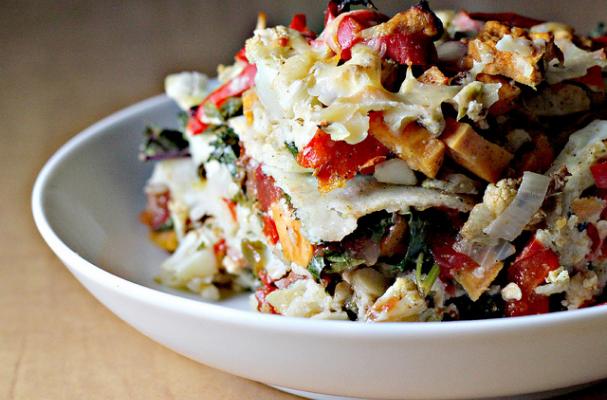 This roasted vegetable enchilada stack from Eats Well With Others is full of bold flavors. A variety of vegetables including poblano chiles, red peppers, cauliflower and sweet potato are roasted in a hot oven until tender. Their flavors deepen and the caramelization of the natural sugars adds a slight sweetness to the dish. These wonderful veggies are then layered between tortillas and plenty of cheese. Roasted vegetable enchilada stack is great for Cinco de Mayo or just to have in you recipe repertoire for an easy weeknight meal.
Ingredients:
1 poblano chile, cut into matchsticks
2 red bell peppers, cut into matchsticks
1/2 head cauliflower, cut into 1/2-inch chunks
1 sweet potato, peeled and cut into 1/2-inch cubes
1 medium onion, halved and slivered
2 tbsp coconut oil (or other heat-safe oil)
1 1/2 tsp cumin
2 garlic cloves, minced
salt and black pepper
1/2 cup minced fresh cilantro
2 cups salsa
2 oz chopped kale (2 big handfuls)
2-10 corn tortillas, halved
4 oz shredded cheese (I used leftover quesadilla cheese but cheddar or monterey jack would also work!)
sour cream and thinly sliced scallions for garnish, if desired
For full recipe instructions, click here.
Image Sources: