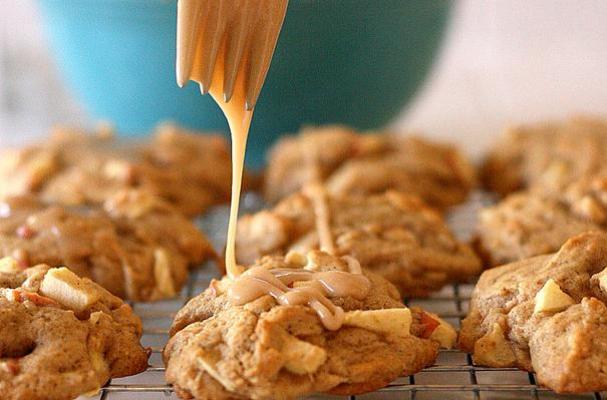 We love our apples here in Washington State and I'm always looking for delicious ways, both sweet and savory, to enjoy them. This cookie recipe from Perry's Plate popped out at me because of their lovely muffin-like appearance and the scrumptious maple-glaze that she drizzles over each treat. They look so delicious I don't know whether to eat these for breakfast or dessert!
I think I'll do both...
Maple-Glazed Apple Cookies
Submitted to Foodista by Perry's Plate
Makes about 1 1/2 dozen
1/2 cup butter, softened (4 oz or one stick)
1 cup brown sugar
1/4 cup milk
2 cups flour
1 egg
1 teaspoon salt
1 teaspoon cinnamon
1/4 teaspoon nutmeg
1/4 teaspoon cloves
1 teaspoon baking soda
2 cups chopped apple
Glaze:
1 tablespoon melted butter
1 cup powdered sugar
1/4 teaspoon maple flavoring
3 tablespoons milk
Preheat oven to 400 degrees F.
Cream butter and sugar together in a large mixing bowl until light in color, about 1-2 minutes. Add egg and milk; stir to combine. Add remaining dry ingredients (except apple) and stir just until combined. Gently fold in the apples. Drop by heaping tablespoons onto a greased baking sheet.
Bake at 400 for about 10-12 min or until tops don't look wet anymore.
To make the glaze, whisk together all glaze ingredients in a small bowl. When the cookies have cooled for a few minutes, drizzle each cookie with glaze.
Makes about 1 1/2 dozen.
Categories: