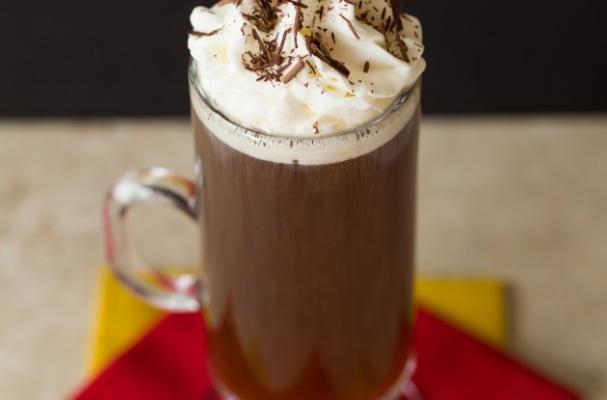 A lot of us can't get through the day without at least one cup of coffee or ten. It's our driving force in the morning and helps us get through that afternoon slump. To celebrate National Coffee Day, we have crafted a list of some of our favorite coffee drinks. Far from your standard cup of Joe, these coffee beverages range from an icy mocha shake to holiday spiced pumpkin latte to even a spiked coffee cocktail. Grind your beans and warm up some water to make one of these delicious coffee drinks.
Honey Cinnamon Iced Latte
Recipe from Cookie Monster Cooking
A classic latte is given a gourmet touch when it's sweetened with honey cinnamon simple syrup. Cold brew coffee concentrate is poured over ice before the cream (or milk) and flavored simple syrup is added. While this recipe is for an iced latte, you can certainly use hot coffee too.
Pumpkin Spice Latte
Recipe from Dessert for Two
When fall arrives, there's nothing I want more than to sip on a pumpkin spice latte. Coffee shops charge an arm and a leg for this seasonal drink but the homemade version is affordable and just as satisfying. While most recipes call for pumpkin spice simple syrup, this one uses real pumpkin puree and their own pumpkin spice blend. It's perfect for cool morning to help you start the day.
Mocha Iced Coffee Shakes
Recipe from The Corner Kitchen
We may be heading into fall but that doesn't mean we don't get a warm day here or there so I mocha iced coffee shake is totally appropriate. The secret to this frozen drink is using coffee ice cubes instead of regular ice cubes. This ensures that the coffee flavors does not become diluted as the drink melts.
Casino Coffee
Recipe from The Drink Kings
Sometimes a spiked coffee drink, like the casino coffee, is in order. Whether you've had a bad day at work or the best day of your life, a casino coffee can be the "icing on the cake." Brandy, creme de cacao, amaretto and coffee are combined in a glass before being topped with whipped cream and chocolate shavings. You can sip on this coffee as an afternoon pick me up or an after dinner cocktail.
Image Sources:
Categories: