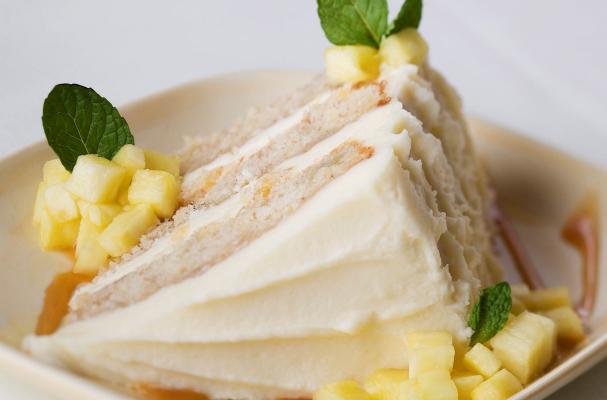 Former celebrity chef to Oprah Winfrey, Chef Art Smith, has paired up with Philadelphia Cream Cheese to create this fabulous summery cake he calls the Hummingbird Cake. We especially love that Chef Smith is working with NoKidHungry.Org, which helps feed children who would otherwise struggle to eat during the summer, when they rely on school meals during the school year. It's a worthy organization and is doing very good things in our nation. Please check out the website and then enjoy this delicious treat. Thanks to both Chef Smith and Kraft.com, for the perfect summertime treat.
Hummingbird Cake
INGREDIENTS:
Cake
· 3 cups all-purpose flour
· 2 cups granulated sugar
· 1 teaspoon baking soda
· 1 teaspoon ground cinnamon
· ½ teaspoon salt
· 2 cups chopped ripe bananas
· 1 cup drained crushed pineapple
· 1 cup vegetable oil, preferably canola
· 3 large eggs, beaten
· 1 ½ teaspoons vanilla extract
· 1 cup (4 ounces) finely chopped pecans
Icing
· 8 ounces PHILADELPHIA Cream Cheese, at room temperature
· ½ cup (1 stick) butter, at room temperature
· 1 pound confectioners' sugar (about 4 ½ cups), sifted
· 1 teaspoon vanilla extract
· Pesticide-free, edible flowers from the garden, such as roses, nasturtiums, or pansies, for garnish (optional)
DIRECTIONS:
· To make the cake, position racks in the center and bottom third of the oven and preheat to 350oF. Lightly butter two 9-inch round cake pans, sprinkle evenly with flour and tap out the excess. (If you wish, butter the pans, line the bottoms with rounds of parchment paper, then flour the pans and tap out the excess.)
· Sift the flour, sugar, baking soda, cinnamon and salt into a bowl. In another bowl, stir or whisk the bananas, pineapple, oil, eggs and vanilla, until combined. Do not use an electric mixer. Pour into the dry mixture and fold together with a large spatula just until smooth. Do not beat. Fold in the pecans. Spread evenly in the pans.
· Bake until the cakes spring back when pressed in the center, 30 to 35 minutes. Transfer the cakes to wire racks and cool for 10 minutes. Invert the cakes onto the racks (remove the parchment paper now, if using). Turn right side up and cool completely.
· To make the icing, using an electric mixer on high speed, beat the cream cheese and butter in a large bowl until combined. On low speed, gradually beat in the sugar, then the vanilla, to make a smooth icing.
· Place 1 cake layer, upside down, on a serving platter. Spread with about 2/3 cup of the icing. Top with the second layer, right side up. Spread the remaining icing over the top and sides of the cake. (The cake can be prepared up to 1 day ahead and stored, uncovered, in the refrigerator. Let stand at room temperature for 1 hour before serving.) Just before serving, decorate the top with flowers, if desired.
Image Sources: