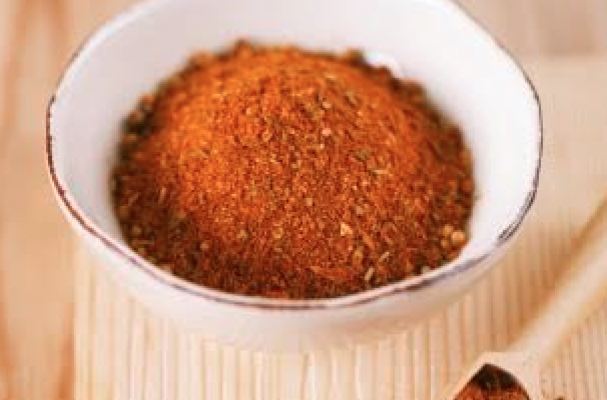 Every cook needs a go-to barbecue rub that they can use all summer long. This do-it-yourself seasoning blend is a sweet and smoky mix of paprika, cumin, sugar, onion powder, garlic powder and more. It is delicious sprinkled on chicken, fish, tempeh or even fresh vegetables. Getting your hands on a versatile yet easy barbecue rub will make outdoor cooking that much simpler. I like to make a big batch and store it in a large jar so it is literally at my finger tips. For the best results, use the freshest spices you can get your hands on.
In The Raw® Smoky Sweet BBQ Rub
Courtesy of In the Raw
Ingredients:
1/4 cup smoked sweet paprika
1/2 cup Sugar In The Raw® for a dry rub (or Agave In The Raw® plus 2 tablespoons each of apple cider vinegar and extra virgin olive oil for a wet rub)
2 tablespoons ground cumin
2 tablespoons sea salt
2 tablespoons ground black pepper
1 tablespoon onion powder
2 teaspoons garlic powder
Directions:
Step 1: In a medium bowl, stir to combine paprika, sugar (or agave, vinegar, and oil), cumin, salt, pepper, onion, and garlic.
Step 2: To use, evenly rub mixture over the surface of the meat. Place meat uncovered on a rack above a sheet pan in the refrigerator for at least 8 hours and up to 24 hours to allow the rub to dry out, ensuring a crisp, flavorful crust. Roast, bake, or grill meat as directed in individual recipes (note: do not cook the agave rub version at high heats, as it's more prone to burn).
Step 3: Store leftover dry rub in an airtight container at room temperature. For the agave rub, store in an airtight container in the fridge up to 6 weeks.
Culinary tip: For high heat grilling, stick with the traditional Sugar In The Raw®. For baking at about 350˚F or grilling over indirect heat, try swapping in Agave In The Raw® for an even sweeter, smoky flavor.
Editorial Disclosure: Foodista was not paid for this post.
Image Sources: