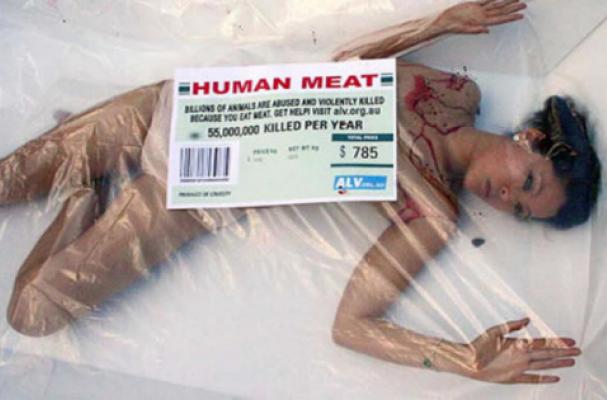 PETA may have used the concept of eating human meat as a novel publicity stunt in the photo above, but cannibalism is nothing new in the movie world. We've rounded up the top movies featuring cannibalistic cuisine to take a closer look at this chilling culinary phenomenon without having to sample it for ourselves.
1. The Rocky Horror Picture Show: This 1975 film is a cult classic that's still in a limited release. In the movie, Meat Loaf's character Eddie becomes a partial brain donor to Rocky Horror; later on, Dr. Frank-N-Furter (Tim Curry) turns Eddie's body into his dinner. For a tender roast that won't send guests away screaming, try this one:
2. Fried Green Tomatoes: Big George (Stan Shaw) creates a finger-lickin' batch of barbecued ribs from Frank Bennett's (Nick Searcy) body. As Ninny famously said, "Secret's in the sauce, or so I've been told."
The following recipe also comes from a Birmingham, Alabama native, but it won't get you in trouble with the law.
3. Sweeney Todd: In this 2007 adaptation of the Victorian penny dreadful-turned-musical-turned-film, Johnny Depp plays the murderous barber Sweeney Todd and Helena Bonham Carter is Mrs. Nellie Lovett, his accomplice. Mrs. Lovett is infamous for baking Todd's victims into meat pies and selling them at her Fleet Street shop. For a more mainstream version of meat pie, try this recipe:
4. Hannibal: The sequel of "The Silence of the Lambs" featured a prominent dinner scene in which Hannibal Lecter (Anthony Hopkins) drugs Paul Krendler (Ray Liotta), cuts out a portion of Krendler's brain, cooks it and feeds it to him. The final scene of the movie takes place in a plane, where Lecter carefully unwraps a boxed lunch that contains a brainlike entree and shares it with his young seatmate. If you've got offal on the brain, try this recipe for poached brains:
5. Charlie and the Chocolate Factory: Willy Wonka (Johnny Depp) discusses cannibalism while introducing the children to the chocolate-mixing room, saying, "Everything in this room is eatable, even I'm eatable! But that is called 'cannibalism,' my dear children, and is in fact frowned upon in most societies." When the hefty Augustus Gloop is sucked into the chocolate lake, he comes dangerously close to being turned into chocolate fudge. The following fudge recipe doesn't have a trace of human flesh in it:
Image Sources:
Categories: