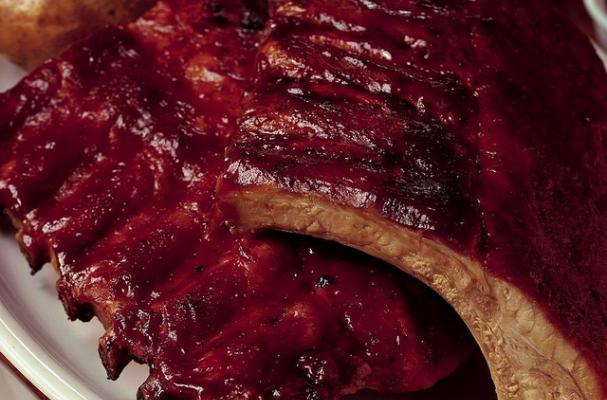 Spicy beer and bourbon ribs from Ambersandwich are the ultimate summertime meal. A thick and rich homemade tomato based barbecue sauce made with amber ale, bourbon, brown sugar, malt vinegar and dried chiles is smothered on the ribs before cooking. They are roasted low and slow in the oven at about 300 degrees to keep them tender and juicy. You can also do this recipe on the grill. Spicy beer and bourbon ribs are guaranteed to be a crowd pleaser.
Ingredients:
350g Tomato Sauce
100ml Amber Ale
60ml Bourbon (I used my favorite Elijah Craig, but any bourbon will do)
150g brown sugar
1 diced red chilli (if you like it hot)
30ml malt vinegar
2tbs Worcestershire sauce
salt and pepper
1 tsp smoked paprika
2 cloves of crushed garlic
Directions:
Place all ingredients in a saucepan and simmer for 20 minutes until nice and thick.
Use half of the mixture to coat 4-6 pork ribs and let them marinate for 2 hours (or more)
Save the other half of the sauce to serve with the cooked ribs.
Preheat oven to 160C (320F)
Cook ribs for 1 1/2 hours, basting with sauce about every half hour
Increase heat to 200C (395F) and cook for another 30 min
When finished allow to rest for 15 minutes
Smother with remaining BBQ sauce and enjoy with potato salad and amber ale.
Image Sources: