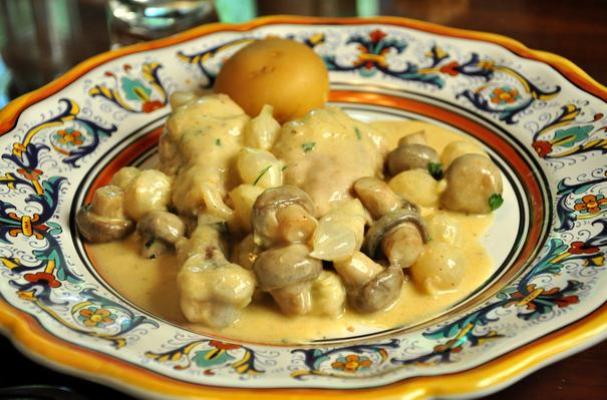 This delicious one skillet chicken recipe takes only minutes to make and uses just a few ingredients you probably already have on hand. Chicken breasts (or mix it up and throw in some thighs too!) are bathed in a creamy sauce of sautéed onions and mushrooms, a bit of white wine, sour cream, and tarragon. It's wonderful served over buttery noodles, rice or even with biscuits!
Easy Chicken and Cream Sauce
Submitted to Foodista by Memorie di Angelina
Serves 4
2 tbsps butter
1 pkg. fresh mushrooms, sliced
1 lg. onion, sliced
Fresh garlic, to taste (dash)
6 skinless, boneless chicken breasts
3 tbsp white wine
Dash of Worcestershire sauce
3 cups sour cream
Dash of tarragon
In large skillet saute onions, mushrooms, and garlic until lightly brown; add chicken breast and cook on medium high for 10 minutes or until chicken is done.
Remove chicken and place on a platter. Add white wine and cook until alcohol has burned off, about 2 minutes. Add Worchestershire sauce and sour cream and stir until combined. Pour sauce over chicken, sprinkle with tarragon and serve.
Excellent with biscuits, pasta or rice.