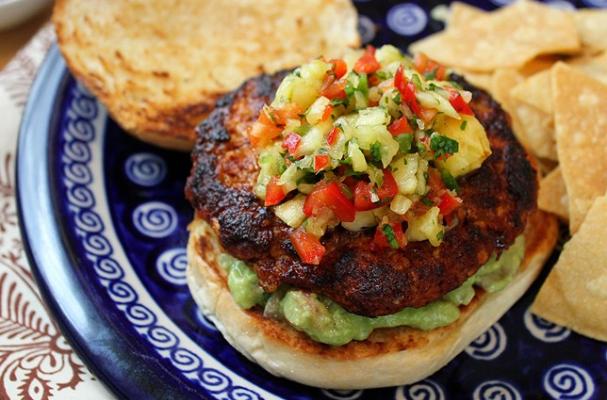 In continuing with Hispanic Heritage Month, I found this unique burger recipe. Blogger Malcolm from Cooking and Eating From Away created an al pastor burger topped with pineapple salsa and guacamole. Al pastor is heavily spiced pork accented with pineapple usually eaten in the form of tacos. This burger is spicy, sweet, and rich. I can't wait to try this recipe!
Hamburgers al Pastor
Makes about 8 burgers
Recipe from Cooking and Eating From Away

Ingredients:
2 lb boneless pork shoulder roast, cut into 1-inch chunks
2 large dried ancho chiles, stems and seed removed
1 teaspoon cinnamon
1 teaspoon oregano
1 teaspoon crushed whole black pepper
1 teaspoon ground sea salt
1 teaspoon onion powder
6 cloves of garlic, crushed
1 1/2 teaspoons of achiote
1 lime
Classic Guacamole (recipe follows)
Pineapple & Jalapeno Salsa (recipe follows)
8 hamburger buns
4 tablespoons butter
Image Sources:
Want more from Foodista? Sign up below!