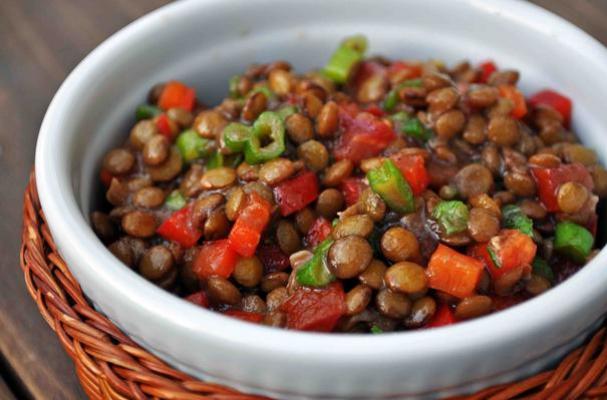 This light and healthy lentil and vegetable salad from Cooking with Michele will help you achieve your New Year's resolution. Lentils are a quick cooking legume that don't require soaking prior to cooking. For this recipe, they are cooked with onion and water until tender, about 30 minutes. Once the beans have been drained and cooled, mix them with a bright vinaigrette and chopped vegetables including red bell pepper and tomatoes. Olives and chopped fresh basil would also be delicious additions. Lentil and vegetable salad is a versatile dish that will keep you from losing sight of your weight loss goals.
Ingredients:
1 tablespoon extra virgin olive oil
1 small large white onion, diced
1 cup lentils, green or brown
2 small tomatoes, seeded and diced
1 small large red bell pepper, diced
4 green onions, sliced thin
1 tablespoon rosemary, minced fine
3 tablespoons extra virgin olive oil
2 teaspoons red wine vinegar
2 teaspoons balsamic vinegar
salt and pepper, to taste
Directions:
Heat olive oil in a saucepan over medium high heat and add onion. Cook until just translucent and then add lentils. Add water and cook according to package directions. Drain and cool.
Combine lentils with tomatoes, pepper, onions, rosemary, olive oil, and vinegars. Season with salt and pepper to taste and adjust oil or vinegar as desired.
Serve cold or at room temperature.
Image Sources: