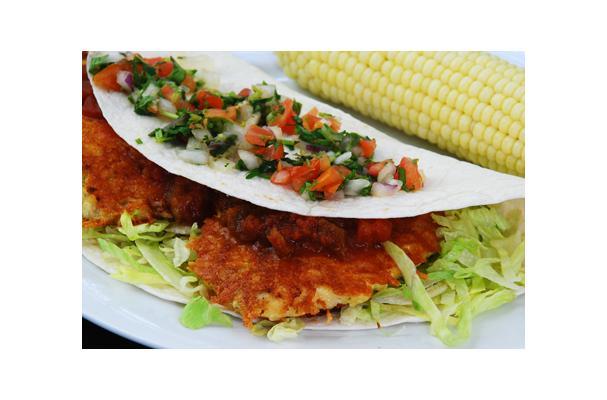 We love tilapia for its versatility and cheap sticker price. For just a few dollars you can enjoy these crispy pan-fried fish tacos from Dunkin' Cooking the Semi-Homemade Way. Tender tilapia fillets are dredged in batter, coated with Parmesan cheese, then lightly fried in a skillet until golden brown. Serve the fish up in warm flour or corn tortillas and garnish with shredded lettuce and the salsa of your choice.
Tilapia Soft Tacos
Submitted to Foodista by Dunkin' Cooking the Semi-Homemade Way
Serves 2
3 Eggs (beaten)
1 cup - Flour
2 cups - Fresh Grated Parmesan Cheese
4 Tilapia Fillets
2 Tbs. - Johnny's Garlic Season
Soft Tortilla Wraps
Lettuce Shreds
Pico De Gallo
Pace Pineapple Mango Chipotle Salsa
Place 3 shallow dishes on the counter, in one place the eggs, in another the flour and Johnny's in the last is the Parmesan cheese. Dip one piece of fish into the egg then into the flour, shake off the excess and dip into the egg again then into the cheese pressing firmly to get a good coating. Do the same with the remaining fish. Cook on a preheated electric skillet at 325 degrees for 5-8 minutes on each side or until the cheese is golden brown and crispy. Lay out one tortilla wrap and on one side lay down some lettuce shreds, place 2 pieces of fish on top then spoon on some salsa and pica de gallo.