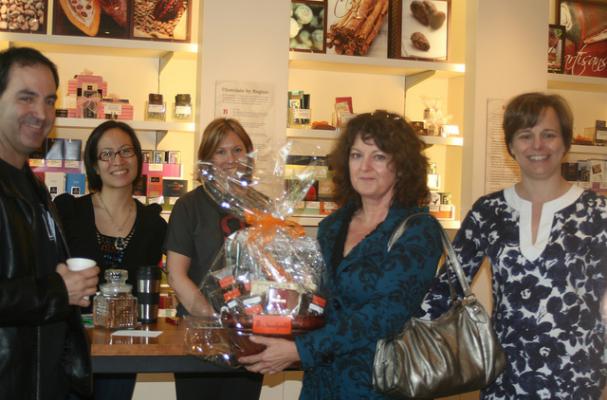 On Sunday five chefs and chocolatiers gathered at Seattle's Chocolopolis store to judge the first Serious Chocolate Contest. The four categories included Best Baked Chocolate Dessert, Best Flourless Chocolate Dessert, Best Use of Single-Origin Chocolate, and Best Truffle or Confection.
Judging the contest were the following Seattle culinary stars:
Stacy Fortner, Pastry Chef for Tom Douglas Restaurants
Matt Farrer, Executive Sous Chef, Canlis Restaurant
Bill Morris, Exectuive Chef, The Rainier Club
Eagranie Yuh, Chocolate Blogger, www.thewelltemperedchocolatier.com
Lauren Adler, Chief Chocophile, Chocolopolis
While the judge's sampled and savored the delicious chocolate desserts that were set before them first thing on a Sunday morning, the contestants, this writer included, stood patiently at the back of the store wondering just what was going on at that table of culinary experts talking in low whispers as they poked and prodded assorted entries, placed them in their mouths as if they were tasting their last bite on earth, and then jotted their notes and tallied their votes as new platters of entries were placed before them. After nearly three suspenseful hours, the verdicts were in:
Best Baked Good, 1st Place: Sheila Buggia, Triple Chocolate Shortbread Cookies, 2nd Place: Anita Anderson, Chocolate Pound Cake
Best Flourless Chocolate, 1st Place: Chocolate Tart, Mona Peck, 2nd Place: Chocolate Ice Cream, Rob Gardiner
Best Use of Single-Origin, 1st Place: Chocolate-Dipped Ginger Biscotti, Carla Darr, 2nd Place: Chocolate Lemon Lavender Ice Cream, Margaret Fulton
Best Truffle/Confection, 1st Place: Caramelized Cacao Beans, Karel Scott, 2nd Place: Butter Caramel Chew, Denise Derr
Best Baked Chocolate Dessert: First Place, triple chocolate shortbread; Second Place, Chocolate Pound Cake
And Best in Show: Triple Chocolate Shortbread.
All first place winners received an enormous basket of chocolates and chocolate tools, all second place winners received a lovely basket of chocolates, and Sheila Buggia, winner of the Best in Show for her Triple Chocolate Shortbread also won a pound of chocolate a week for a year! And winner Karel Scott won the honor of featuring her delicious caramelized cocoa beans at Chocolopolis.
And as for my own entry, Rhubarb-Pomegranate Dark Chocolate molded truffles with salted macadamia nuts, alas, while I received near perfect scores across the board for technique, it's back in the kitchen for me to roast those nuts and chop them fine and enhance that flavor profile – pomegranate molasses is the key, I just know it!
Congratulations to all the winners, each of them worthy and well earned, and thank you to all the judges for their generous time and critique and to Chocolopolis Owner Lauren Adler for judging and hosting the event. Next contest she's considering? Something for the holidays, perhaps a best holiday dessert she's thinking. So get started now on your own winning entry!
Categories: