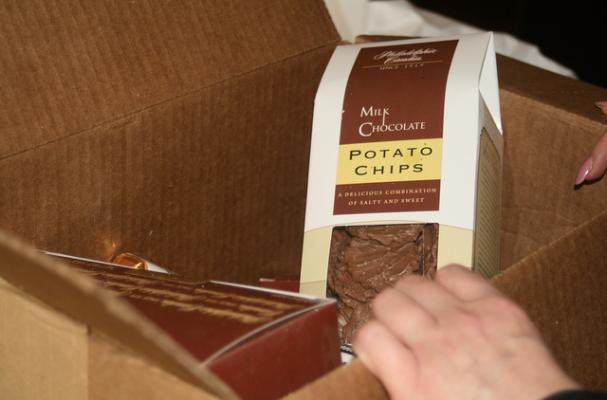 With salted caramels all the rage, you'd think that salt and chocolate were a new idea. But salty chocolates can be traced back to 1544, when a German pretzel maker, Herr Joseph von Franz Liebnez set up shop next to a chocolate maker. The combination of crunchy salty pretzel with smooth sweet chocolate proved so popular that half a millennium later chocolate covered pretzels remain a favorite confection, particularly among family owned chocolate makers such as Pennsylvania's Philadelphia Candies.
When the Greek brothers Steve and Jim Macris founded Philadelphia Candies in 1919, they found a loyal following among their customers who bought boxfuls of their chocolate covered pretzels, as well as rich peanut butter truffles called "croquettes" made from chocolate and peanut butter ganache rolled in chopped peanuts; assorted filled chocolates, butter creams, rich mints, and molded holiday chocolates (in fact, the Macris brothers were among the first chocolatiers in America to produce chocolate Easter Bunnies). But perhaps their most distinctive chocolate confection has been their take on the sweet and salty combo with their milk and dark chocolate covered potato chips.
When I received a large box of Philadelphia chocolates in the mail, I thought the chocolate covered potato chips were quite the novelty. But after trying their tasty chocolate covered pretzels, I found the courage to bite into a chocolate covered potato chip. The chocolate was thick, as was the chip, a ruffled style salty chip buried in a bed of rich chocolate. They were quite tasty; the chip had maintained its crunch, and the salty flavor of the chip complemented the sweetness of the chocolate.
Other chocolates in the Philadelphia Chocolate line are also worth noting. The peanut butter croquettes appeared to be stale when I first saw it, but when I bit into it, I saw how mistaken I was. It was rich, creamy, and smooth, and it put Reese's Peanut Butter Cups to shame. The peanut butter croquette was clearly my favorite. Unfortunately, I didn't have more than one because once my daughter tried one, she snuck off with them all, leaving me to snack on a bowl of chocolate covered potato chips which was quite fine with me.
The Chocolate Covered Potato Chips are packaged in 9 oz boxes for $8.95 from Philadelphia Candies. Bet you can't eat just one.
Categories: