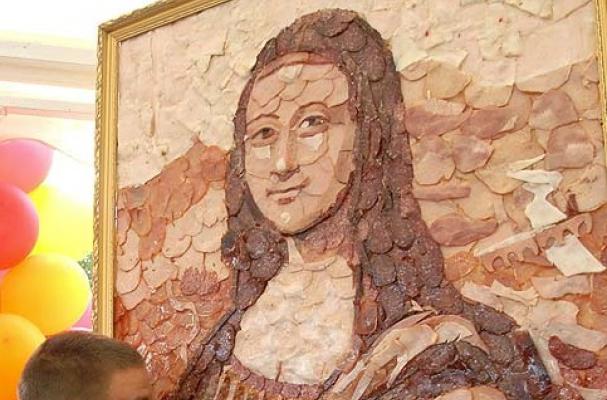 Happy Weird Wednesday! Here are the wackiest must-read links that crossed our desk today.
A Chicago blogger and public school speech pathologist eats school lunch every day for a year, documenting her shocking findings in the book "Fed Up With Lunch." [Organic Authority]
Mischa Barton sits for a controversial photo shoot with Tyler Shields in which she rubs $65 of raw meat on her face and bites into it. Delicious. PETA compared Barton's meat makeout session as akin to licking a toilet. [E! Online, Fashionista]
Speaking of meat, this photo of a meat Mona Lisa -- which was created a couple of years ago by artist Aleksandr Solomko to celebrate a Russian meat-processing factory's 100th anniversary -- just made it stateside. There's also a photo of a baby-shaped meat sculpture that will give you nightmares. Craving a trip to your local deli? [That's Nerdalicious]
The Heart Attack Grill, the home of the 8,000-calorie Quadruple Bypass Burger, has opened its third location. Like the other locations, individuals who weigh over 350 pounds can eat at the Las Vegas restaurant for free. [ABC News]
Bacon lovers simply must read this list of bacon hacks, including how to speed up hangover recovery, how to cook perfect bacon and how to cure your own. [Lifehacker]
This flair bartender takes drink-mixing to a new level with this flaming concoction. [Neatorama]
Andrew Bell's zombie candy corn sculpture is the perfect art investment for diehard Halloween fans. [Laughing Squid]
GOOD polled its readers on iconic state sandwiches for this map of the country. [GOOD]
Think your specialty hamburger is worth $100,000? Jennifer Beckman did, and the judges of the Sutter Home Winery 2011 Build a Better Burger competition agreed. She even has the super-sized check to prove it. [Washington Post]
Ben & Jerry's voices its support for the Occupy Wall Street movement, posting a short encouraging note on its website. The Unilever-owned brand is the first to publicly endorse Occupy Wall Street. [PSFK]
Image Sources:
Categories:
Want more from Foodista? Sign up below!