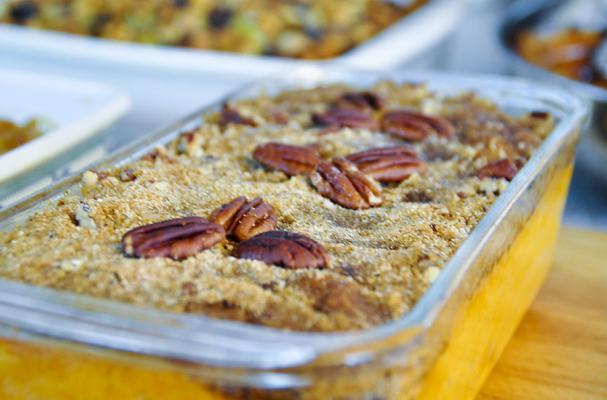 Looking for a crowd-pleasing sweet potato recipe for Thanksgiving? Look no further! One of our favorite Foodista contributors - The Kitchen Witch - has created this delicious casserole. Sweet, but not too sweet, the citrus and zest in this recipe help balance the sweetness, and the pecans in the crumble add a lovely nutty flavor.
Sweet Potato Casserole with Pecan Crumble Topping
8-10 servings
Casserole:
1 1/2 to 2 pounds sweet potatoes, peeled and cubed
1/3 cup sugar
1/2 cup evaporated milk
1 egg, beaten
Zest of 1 orange
3 tablespoons butter
1/2 teaspoon vanilla
1/4 cup fresh orange juice
Topping:
1/2 cup brown sugar
1/3 cup flour
2 tablespoons butter
1/2 cup pecan pieces
Pecan halves for garnish (optional)
Preheat oven to 350°F. In a a large pot, add sweet potatoes and fill with water until the potatoes are just covered. Bring to a boil, turn heat down and gently boil until potatoes are fork tender, about 15 minutes. In a large bowl add: beaten egg, sugar, evaporated milk, orange zest, 3 tablespoons of butter and vanilla.
Add cooked and drained sweet potatoes to the large bowl and break up the sweet potatoes with a wooden spoon or a mixer on low speed. Add the orange juice and mix until combined and potatoes are smooth. Put sweet potato mixture into a greased 9 x 5 loaf pan.
For the crumb topping, mix brown sugar and flour, cut in the 2 tablespoons of butter then stir in the pecan pieces. cover the sweet potato casserole completely with the crumb topping. Decorate with pecan halves if desired. Bake for 25 minutes.
Click here to add this recipe to your Favorites, or for a printer-friendly version!
Image Sources: