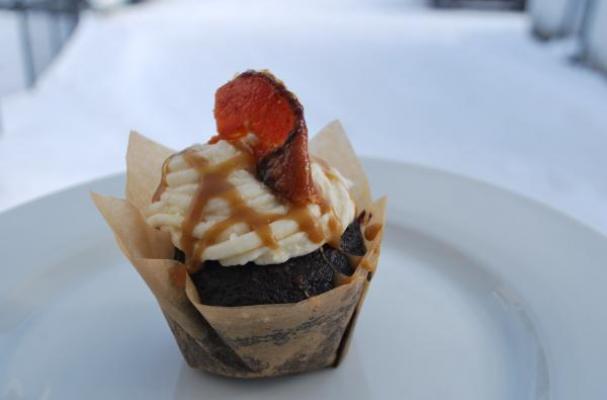 These addictive chocolate cupcakes contain triple the sticky maple and triple the smoky bacon — in the cupcake itself, in the maple bacon buttercream, and in the form of a maple reduction drizzled around bits of candied bacon garnish. Enjoy this 1/4 Cup Kitchen creation with a proper breakfast stout or doughnut ale.
Ingredients:
Cupcake
1 cup sugar
1 cup brown sugar
1 ¾ cup flour
¾ cup cocoa powder
1 ½ tsp baking soda
1 ½ tsp baking powder
½ tsp applewood smoked salt
2 eggs
1 cup milk
½ cup vegetable oil
2 tsp vanilla
4 oz. melted Ghirardelli dark baking chocolate (1 bar)
1 cup boiling water
1 small pkg pieces Vermont Smoke & Cure Maple Cured Bacon
Maple bacon buttercream
1 ½ sticks butter
4 tbs reserved bacon drippings (cooled)
3 cups confectioner's sugar
4 tbs milk
¼ tsp. fine sea salt
1 tsp vanilla
2 Tbs maple syrup
Image Sources:
Categories:
Want more from Foodista? Sign up below!