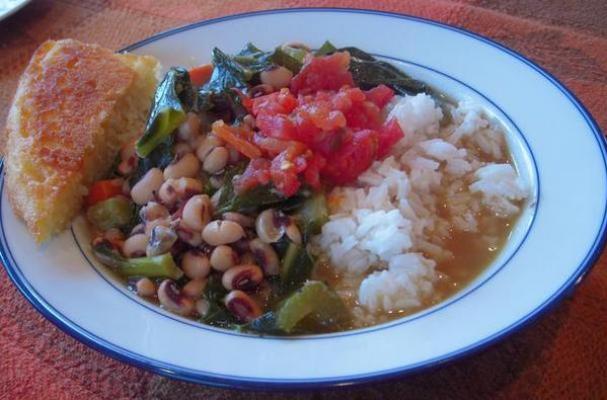 Get your food wealth off on the right foot in 2014 with this hearty recipe for hoppin' john soup. Beans and greens are meant to symbolize currency and wealth. Rice, ham hock and broth round out this traditional southern New Year's Day masterpiece.
New Year's Hoppin' John Soup
Submitted by My Stolen Recipes
http://www.foodista.com/profile/JGBVX35C/james-cc-rice-aia
Ingredients:
1 pound dried black-eyed peas
1/4 cup vegetable oil
1 large onion, chopped
4 celery ribs, chopped
2 large carrots, chopped
6 garlic cloves, crushed
1 large jalapeno pepper, finely chopped with seeds removed
2 teaspoons dried thyme
1/2 teaspoon dried red pepper flakes
1 bay leaf
10 cups liquid (chicken broth, water, or a combination)
2 large ham hocks
1 pound collard greens, thinly sliced (5 to 6 cups)
1 cup finely diced ham, from ham bone or a ham steak
1 teaspoon salt, or to taste
1/4 teaspoon freshly ground black pepper to taste
2 tablespoons cider vinegar
6 cups cooked long-grain white rice
5 1/2 cups chopped tomatoes (or Rotel diced tom
Additional vinegar for passing
Image Sources:
Want more from Foodista? Sign up below!