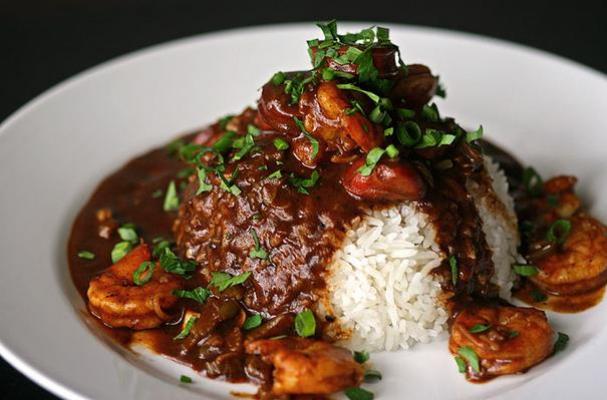 Heading down south to New Orleans for Mardi Gras is definitely on my bucket list. What a dream: great jazz, scrumptious beignets, and anything cooked by chefs John Besh or John Folse! Alas, I will be spending yet another year in Seattle on Fat Tuesday (next week!) but that won't stop me from enjoying the splendid cuisine of The Big Easy. If you plan on hosting a Fat Tuesday fête, try some of these delicious recipes straight from NoLa like a classic Shrimp and Sausage Étouffée or a plate of tasty Fried Green Tomatoes and Shrimp with Spicy Remoulade. Some recipes are super easy, some will take some tender loving care, but all of them are sure to give you the taste of New Orleans! Be sure to check out our New Orleans and Southern Recipes Pinterest board for more favorites. And, of course, you gotta have a Ramos Gin Fizz!
Bon temps!
Seafood Gumbo
Photo by Southern Food Alliance

Barbecued Shrimp and Grits
Gast Family Recipes

Quick and Easy Vegetable Jambalaya
Taste of Home

Shrimp and Sausage Étouffée
Cook with Fire

Fried Green Tomatoes and Shrimp with Spicy Remoulade

Easy Andouille-Stuffed Peppers
Super Easy Mini King Cakes
Pillsbury

Ramos Gin Fizz
Photo by StuartWebster

Want more from Foodista? Sign up below!