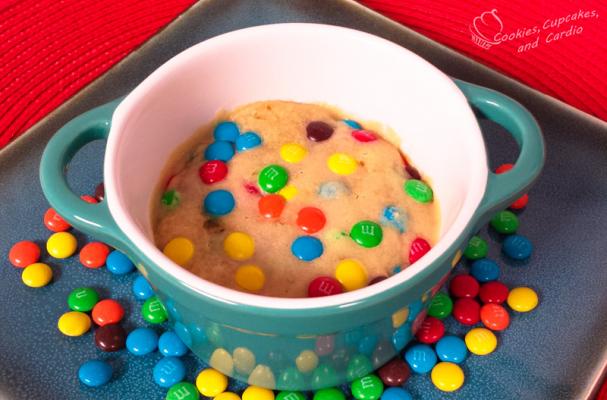 Craving cookies but don't want to ait to bake a whole batch? Satisfy your sweet tooth in minutes with this easy no-bake cookie recipe from Cookies Cupcakes and Cardio! Simply mix up a simple cookie dough in a ramekin add mini chocolate chips (or mini M&Ms) and microwave it! Dorm room dwellers will love this easy cookie recipe! Watch how easy it is to make these fun rainbow cookies and get the recipe below:
No-Bake Rainbow Microwave Cookie in a Mug
1 tablespoon butter
1 tablespoon white sugar
1 tablespoon brown sugar
Pinch of vanilla
Pinch of salt
1 egg yolk
3 tablespoon flour
1 1/2 tablespoon mini chocolate chips (or regular)
Using a small ramekin type bowl, cream the sugars and butter together. Add the egg yolk, vanilla and salt. Mix until no lumps remain. Mix in the flour. Gently stir in the chocolate chips. Using a microwave, bake the cookie for about 45-75 seconds. The time will depend on the power of your microwave, and your personal taste as to whether you want it to be chewy or crunchy. If you want it chewy, bake it for less time.