Bar cookies are secretly the easiest way to get out of baking. You make one of your best cookie recipes, and instead of all that tedious tablespooning of dough over and over, you simply mash the whole thing into a pan and bake at one time. Then, you drizzle on your favorite icing and cut into perfect bars.
A platter of these babies and everyone is your best buddy. See how simple that is? Try some of these wonderful bar cookie recipes and see what you think!
Peanut Butter Glazed Banana Blondies
Image Sources: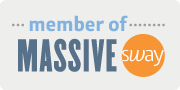 Want more from Foodista? Sign up below!