Featured Speakers: Cookus Interruptus Founders Cynthia Lair and Matt Smith!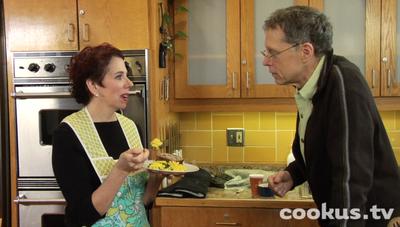 Cookus Interruptus performers and cooks Cynthia Lair and Matt Smith will lead the exciting Story Telling: The 7-Part Structure of Stories session at IFBC 2013 in Seattle.
Cynthia Lair is an Assistant Professor and Culinary Curriculum Director at Bastyr University's School of Nutrition & Exercise Science where she has been on faculty since 1994. She's also the author of Feeding the Whole Family (Sasquatch Books, 2008) and Feeding the Young Athlete: Sports Nutrition Made Easy for Players, Parents and Coaches (Readers to Eaters, 2012). AND the host of the online cooking show Cookus Interruptus where over 170 videos show viewers how to cook fresh local organic whole foods despite life's interruptions (both the plot and the sauce thicken…). (www.cookus.tv). In fall 2012 she was invited to do a TEDx talk. It is titled "How to Cut an Onion".
Matt Smith is a performance artist, a world class fundraising auctioneer, a writer, an improv teacher, a communications consultant and a film actor.
His film credits include Outsourced, Sleepless in Seattle, Spiderman, and KING TV's Almost Live. His solo performances include My Last Year with the Nuns, Helium and All My Children, which was just selected as one of sixteen (out of 186 productions) for the Best of Fest Encore Series at FringeNYC in New York.
Matt has taught many thousands of people to improvise, based at Freehold, in Seattle for 20 years. He is a partner with Cookus Interruptus (www.cookusinterruptus.com), the popular web based cooking show where healthy meets funny. By invitation he presented "The Failure Bow" at the 2012 TEDx Bellevue event. And Matt is an ambassador for Hanford Challenge, dedicated to the clean-up of The Hanford Nuclear Waste Site.
Registration
Register for 2014 here!
2013 SOLD OUT!
Registration Fee:
$95 (active bloggers)
$395 (non-bloggers)
*New in 2013! See registration for qualifying details.
Who Should Attend
Bloggers, Food Writers & Cookbook Authors
Publishers, Agents & Editors
Food Brand / Restaurant Marketers
Public Relations Professionals
Conference Information
Subscribe to the IFBC Mailing List