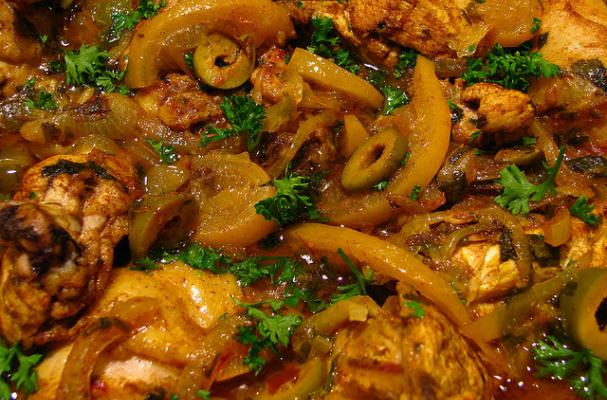 Chicken is one of those foods I like to refer to as "blank slate" foods. It takes on a multitude of flavors wonderfully, as in this dish, and is equally delicious simply roasted with lemon and salt. Best of all, chicken isn't a bank-breaker, is easily stretched into multiple meals (make chicken stock for soup!), and most of us like it - so I'd call that a win-win. One of my favorite ways to prepare chicken is a Moroccan-style tagine. With a melange of spices - from saffron to cinnamon - coupled with the salty sourness of preserved lemons and olives, this dish is pure comfort food at its best! Serve it up with saffron rice or cous cous with toasted pine nuts.
Chicken Tagine With Preserved Lemons And Olives
1 whole large chicken, cut into 8 pieces
5 tablespoons olive oil
1 large bunch fresh cilantro, chopped
1 teaspoon cinnamon
½ teaspoon saffron
Kosher salt
½ pound onions, chopped
5 cloves garlic, minced
1 teaspoon cumin
1 teaspoon ground ginger
1 teaspoon paprika
1 teaspoon turmeric
¼ cup Mediterranean-style olives, pitted
3 small preserved lemons
Click here for the full recipe.