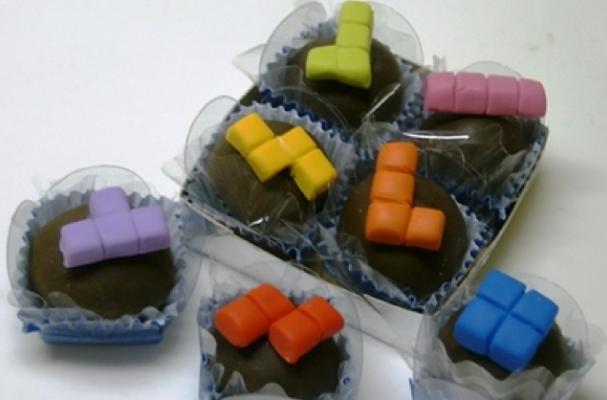 On June 6, 1984, programmer Alexey Pajitnov designed the classic puzzle game Tetris, and we've compiled five Tetris birthday treats to celebrate this unforgettable date in gaming history. From Tetris truffles to game-inspired truffles, we've got edible tetrominoes for nearly every type of sweet tooth.
1. Tetris Cartridge Cake: This stunning cake by Elegant Cake Creations is designed with the original NES cartridge form of Tetris in mind.
2. Mr. and Mrs. Tetromino Cake Topper: This cake topper is more of a wedding treat than a birthday one, but since we're heading into the summer wedding season, gamers may want to celebrate two joyous occasions at once. Lesley Wellington, the culinary artist behind these cake toppers, notes that the colors used and Mr. Tetromino's hat are both customizable.
3. Tetris Truffles: These delicious Tetris truffles by Ana Fuji combine luscious chocolate with sculpted, colored fondant in your favorite tetromino shapes.
4. Tetris Dog Treats: These Tetris-themed delicious peanut butter and pumpkin dog treats let your four-legged friend celebrate your love of retro gaming. Bonus: The block segments in each piece break off easily, making the treats suitable for training purposes and doggies on a diet.
5. Tetris Cupcake Toppers: These Tetris Cupcake Toppers by StudioSweets turn your storebought or homemade cupcakes into instant Tetris treats. They're made from vanilla fondant and come in the buyer's choice of colors and shapes.