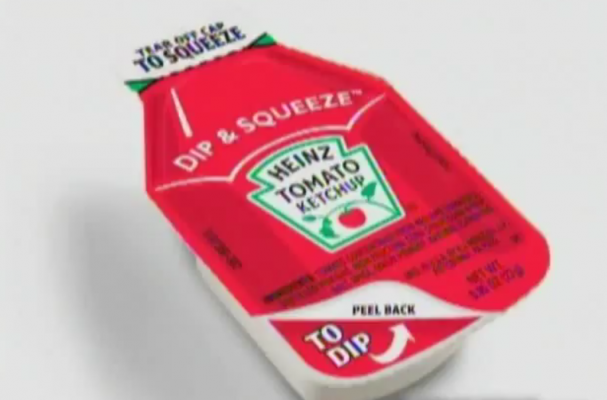 After more than three years of research and development, Heinz thinks its new ketchup packet is finally ready for primetime. Wendy's will swap out the traditional rectangular ketchup packets later this year and smaller chains like Chick-fil-A, Smashburger, and Dairy Queen have already made the switch. McDonalds and Burger King are testing the new packet, but have not made any plans to change yet.
While the packets may seem like a trivial point of eating out at one of these restaurants, they contribute to the margins restaurants make since the ketchup is "given away" for free. These new "Dip and Squeeze" packets will allow customers to squeeze ketchup from the top onto sandwiches, while also enabling them to dip french fries into the bottom. The new packets carry three times as much ketchup as the previous packets.
In order to create the new packets, "staffers sat behind one-way, mirrored glass, watching consumers in 20 fake minivan interiors putting ketchup on fries, burgers, and chicken nuggets," according to the Wall Street Journal.
Early reviews are mixed. Chick-fil-A reports that customers have been taking more ketchup with the new packaging, while Smashburger and Dairy Queen report the opposite. Customers reportedly prefer the new design.
What do you think of it?
Image Sources:
Categories: