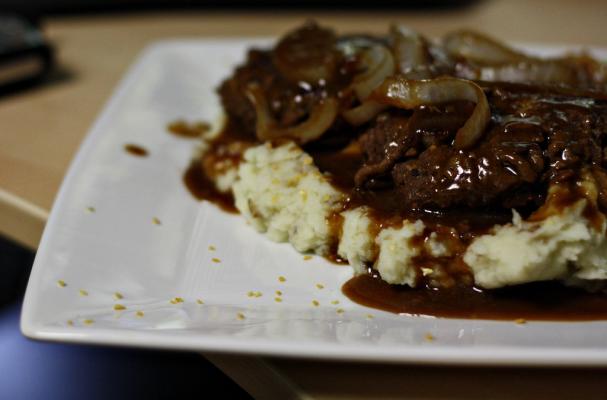 Salisbury steak is a retro dinner that is making a comeback. The dish was invented by Dr. J.H. Salisbury in the late 1800's as a way to promote eating a low carb diet. Salisbury steak became popular with the introduction of the T.V. dinners. Until now, the dish has all but disappeared except in the frozen food section of the grocery store. Salisbury steak is not steak at all but a burger patty topped with a luscious brown gravy made with mushrooms and onions. It is traditionally served alongside simple buttered egg noodles or mashed potatoes and vegetables. Revive this blast from the past dish and make it for dinner tonight!
Ingredients:
1 tablespoon fresh sage, finely chopped
Directions:
Evenly divide the beef mixture into 6 patties (no more than ½" to ¾" thick so they cook all the way through)
Brown
the patties for 8-10 minutes per side
If you need to, add a little more butter to the pan (see, just like the 70's completely not heart healthy)
Once the patties are
browned,
set aside on a platter
Sprinkle the mushrooms with 3 Tbsp of flour and add 2 ½ cups of hot water
If your sauce is not getting thick enough yet, add a little flour to speed up the process
Add another Tbsp of butter,
stirring
to combine
In the meantime, prepare the egg noodles according to the directions, and butter (again we loved butter in the 70's)
Generously
spoon
gravy and mushrooms over the patty
More nostalgia, more blast from the past dinners, more Salisbury steak…..
Image Sources:
Categories: