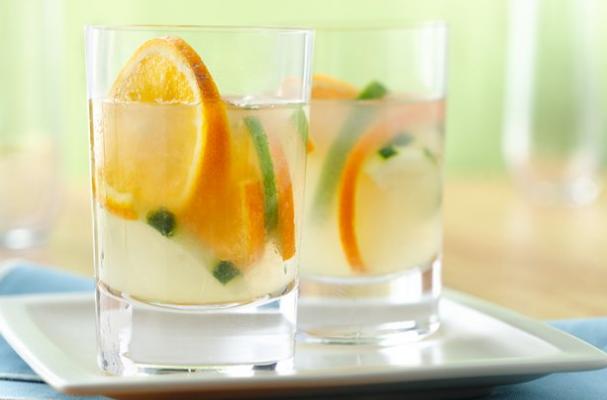 This orange cucumber spagarita is a refreshing accompaniment to Betty Crocker's skinny shrimp tacos. Cucumber and orange slices are muddled and mixed with blanco tequila and orange liquor. When purchasing your tequila, look for a brand that proclaims 100 percent agave (that will have the cleanest flavor). Orange cucumber spagarita is delicious and relaxing cocktail best sipped poolside.
Ingredients:
1 English Cucumber
1 Orange
1 oz Blanco Tequila
3/4 oz clear orange flavored liquor
1 lime
Club Soda

Directions:
Add 3 slices English (seedless) cucumber and half an orange slice to cocktail shaker; break up with muddler or spoon.
Add 1 oz blanco tequila, 3/4 oz clear orange-flavored liqueur and 1/2 oz fresh lime juice.
Fill shaker with ice; cover and shake vigorously. Strain into cocktail glass.
Top with 1/2 oz chilled club soda.
Garnish with lime slices and additional orange and cucumber slices. Makes 1 drink.
Image Sources: