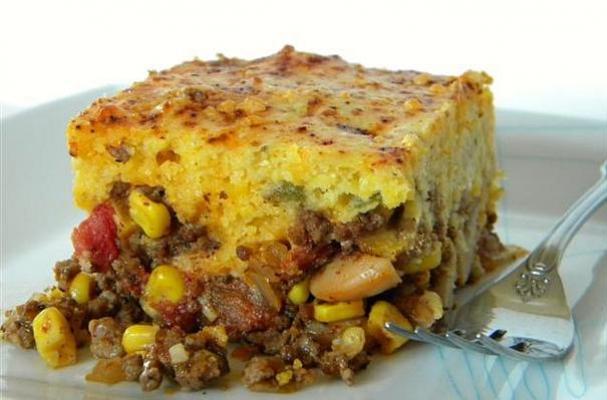 Chile pie with green chile and cheddar cornbread crust is one dynamite dish. The ingredients list may be long but most of items should already be in your pantry. A hearty chili made with ground beef, beans, and corn is topped with cornbread batter the is studded with cheddar cheese and green chiles. It's Hatch chile season in New Mexico so if you can get your hands on some fresh green chiles, definitely use those instead of the canned variety.
Ingredients:
2 large yellow onions, diced
Olive oil for sauteing
Sea or Kosher salt and Fresh Black Pepper
5 cloves Garlic, minced
4 ounces can Green Chiles, diced
1 pound + ½ Ground Beef or Ground Turkey
1 tablespoon Chile Powder, plus more for sprinkling over top
2 teaspoons Worcestershire Sauce
1 teaspoon Oregano
1/2 teaspoon Paprika, smoked or regular
1/2 teaspoon Cumin
Pinch of Cinnamon
Pinch of Nutmeg
Red Pepper, optional
1/2 cup water
14 ounces can Diced Tomatoes
14 ounces can Cannelini Beans, drained & rinsed
1 cup Corn, frozen or canned (drained)
3 cups (12 ounces) Extra Sharp Cheddar Cheese, shredded
1 cup all-purpose Flour
1 cup Cornmeal
1 tablespoon Baking Powder
1/2 teaspoon Table Salt or 1 teaspoon Sea/Kosher Salt
2 Eggs
1 cup Milk
3 tablespoons Butter, melted
1/2 cup Sour Cream, plus more for serving
Directions:
In a large skillet saute onion in oil until soft and translucent, seasoning with salt and pepper. Add garlic and saute until fragrant. Remove 2/3 of the mixture from pan and set aside. Add green chiles with their juices and saute for 2-3 minutes. Remove and set aside in a separate bowl.
In the same skillet brown ground beef, crumbling it as it cooks. When cooked through carefully drain grease. Add the onion mixture, Chile powder, Worcestershire, oregano, paprika, cinnamon, nutmeg, red pepper and water. Mix thoroughly and continue cooking over medium-low heat as you add the tomatoes with juices, the beans and corn. Mix well and cook for 3-4 minutes.
Preheat oven to 400 degrees and grease a 9x13 inch casserole dish. Pour the meat mixture in and spread evenly over bottom. Sprinkle two cups of the cheese over top.
In a large bowl combine the flour, cornmeal, baking powder and salt.
In a separate medium bowl whisk the eggs, milk, butter and sour cream. Add this mixture to the dry mix and stir together.
Add the onion/green chile mixture and the remaining cup of cheese. Stir in. Pour over top of the meat mixture. Spread evenly. Sprinkle Chile powder over top.
Bake 25-30 minutes or until a toothpick comes clean from center of cornbread. Let set for 10 minutes before serving.
Image Sources:
Categories: