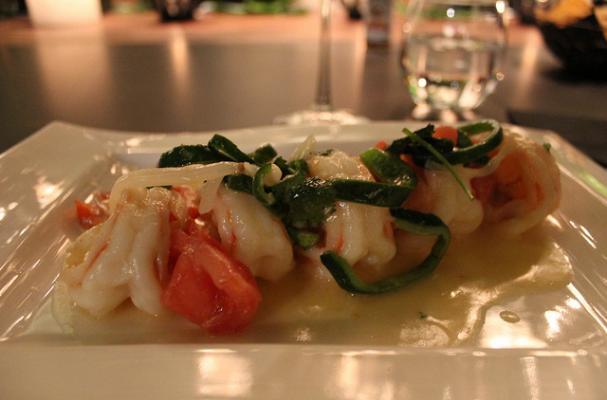 Just two nights ago, Javier's, the popular Southern California and Los Cabos restaurant, opened its doors at ARIA in Las Vegas. Their upscale Mexican cuisine features Baja specials from both land and sea, as well as an impressive array of heritage-rich Mexican plates. Dishes range from filet mignon topped with a light chipotle cream sauce (Filete Antiguo) to giant wild Mexican prawns sautéed with garlic, poblano chiles, onions and tomatoes with fresh cilantro (Camarones Rancheros, shown above) to chicken in mole poblano or verde and Michoacan-style carnitas.
Hand-shaken margaritas are a house specialty, and the well-stocked bar hosts a premium selection of tequilas that is one of the most impressive this side of Mexico. Start the evening with Shrimp Cocktail (each shrimp is easily 4-5 bites); a zesty and tender Ceviche de Pescado; or the Queso Fundido, a cheese lover's dream of melted Monterey Jack cheese with sautéed onions, mushrooms and pasilla chiles, topped with chorizo and chipotle chile (below).
Find yourself surrounded by the elegant Aztecan decor of wood carvings, heavy high-backed leather chairs, and floor to ceiling mother of pearl inlaid tiling.
Foodista.com's travel expenses were generously hosted by ARIA as part of the 3rd Annual Food & Wine All Star Weekend.