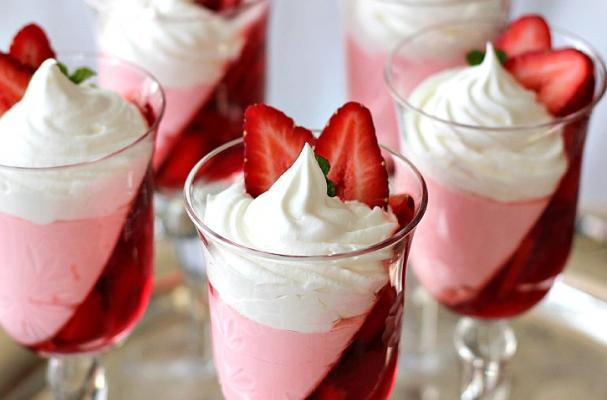 Jell-O strawberry parfaits from Grateful Heart Thankful Prayer are a celebratory treat. This individual dessert is so beautiful and easy to make, you'll want to prepare it for every festive occasion. For a fun twist, substitute some of the water to make the Jell-O with champagne or sparkling wine. Ring in 2013 with Jell-O strawberry parfaits.
Ingredients:
1 package (3oz) Jell-o brand gelatin, any flavor
1 cup sliced fresh fruit
1 cup thawed Cool Whip whipped topping
Directions:
Prepare gelatin according to package directions. Chill until slightly thickened. Set aside 1/3 cup. Add fruit to remaining gelatin; spoon into 4 to 5 glasses. Chill glasses at an angle until jello is set. See blog post for how-to with photos.
Meanwhile, fold whipped topping into measured (1/3 cup) gelatin. Spoon topping mixture into glasses of set jello. Chill. Garnish
Image Sources: