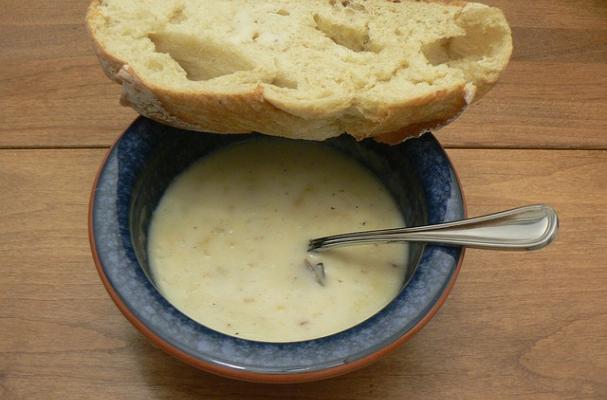 Happy National Clam Chowder Day! Honor this All-American dish by making a pot of it yourself. No one can resist the combination of creamy broth, velvety potatoes and briny clams. Don't forget the oyster crackers.
Ingredients:
8 ounces each minced or chopped clams
1 teaspoon salt, go easy on salt, maybe less
Dash pepper
1 1/2 cups drained whole kernel corn
1 tablespoon butter
1 teaspoon celery salt
1 cup clam liquid and water
3 slices bacon, chopped
1 medium onion finely diced
2 cups diced raw potato
3 cups milk
2 tablespoons flour
Directions:
Drain clams. Pour clam liquid into measuring cup and add water to make 1 cup.
Fry bacon until crisp. Add onion and cook until tender. Add potatoes, clam liquid and water. Lower heat and simmer gently until potatoes are tender.
Add corn and milk. Blend flour and butter and stir into soup. Cook slowly until mixture thickens slightly, stirring constantly. Add seasonings and clams. Simmer 5 minutes. Top with 1/2 cup coarse cracker crumbs, optional.
Image Sources: