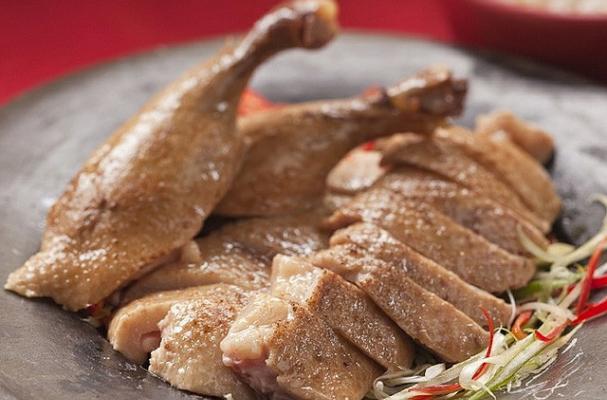 Chinese New Year is a time for family get-togethers and the sharing of traditional foods with symbolic meaning. Throughout the fifteen days of the Lunar New Year we'll be sharing a delicious and symbolic Asian recipe each day. Today marks the second day of Lunar New Year and we're featuring author Pat Tanumihardja's recipe for Teochew Braised Duck (duck is a symbol of fidelity and togetherness) from her book The Asian Grandmothers Cookbook: Home Cooking from Asian American Kitchens. This beautiful book contains 130 delicious and authentic dishes from kitchen's around Asia, many of them handed down from mother to daughter for generations and written down for the first time. You'll love the recipes as much as the stories each grandmother shares. Check out these 10 Chinese New Year recipes too!
T
eochew Braised Duck (Lo Ack) Recipe
As a newlywed, Rosalind Yeo learned how to make this dish from her mother-in-law using a Chinese rice bowl as a measuring implement. The recipe is now a family favorite, often served at Chinese New Year as well as for everyday meals. While this is essentially a Teochew (or Chaozhou) dish, the addition of lemongrass and galangal is very Southeast Asian. The sweetness of the duck contrasts sharply with the tart dipping sauce, resulting in a tingly sweet-sour sensation in your mouth.
Time: 1 1/2 to 2 hours (30 minutes active)
Makes: 4 to 6 servings as part of a multi-course family-style meal
2 tablespoons sea or kosher salt, divided
4- to 5-pound duck, rinsed and patted dry with paper towels
2 cups water, plus more as needed
1/2 cup dark soy sauce
2 plump stalks lemongrass, trimmed, bruised, and halved
1-inch piece fresh galangal, smashed
1 tablespoon sugar
4 whole cloves
4 star anise pods
Two 2-inch sticks cinnamon
1 teaspoon black peppercorns
Chili-Lime Dipping Sauce (recipe follows)
Rub 1½ tablespoons of the salt evenly all over the duck, including inside the cavity.
In a large wok or Dutch oven (or any vessel large enough to hold the whole duck), mix together the water, soy sauce, lemongrass, galangal, sugar, cloves, star anise, cinnamon, peppercorns, and remaining salt. Bring to a boil.
Reduce the heat to medium-low. Gently lower the duck into the wok. The liquid should reach halfway up the duck. Top it off with additional water if necessary.
For the first 20 minutes, baste the duck every 5 minutes or so to color it evenly. Cover and simmer for another 40 to 60 minutes, or until the meat is fall-off-the-bone tender, flipping the duck halfway through cooking. If the sauce looks like it's drying up, add more water, ¼ cup at a time.
Total cooking time should be 1 to 1½ hours. To check for doneness, poke the duck in the thigh with a chopstick. If the juices run clear, the duck is cooked. Or, use a meat thermometer to check if the internal temperature has reached 165 degrees F.
Turn off the heat and leave the duck immersed in the sauce for another hour if desired.
Cut the duck into serving pieces and arrange on a serving platter. Skim the fat from the surface of the sauce, then drizzle the sauce over the duck. Serve with freshly steamed rice and the dipping sauce.
Chili-Lime Dipping Sauce
Time: 15 minutes
Makes: About 1/2 cup
4 cloves garlic
2 long, fresh red chilies (such as Holland or Fresno), or 2 tablespoons prepared chili paste
8 tablespoons key lime juice (from 8 small limes)
Salt
Pound the garlic and chilies in a mortar with a pestle, or whirl in a small food processor, until a coarse paste forms. Add the lime juice and salt to taste and mix well.
Learn more about Asian ingredients! Download the Asian Ingredients 101 iPhone/iPad app!
Image Sources: