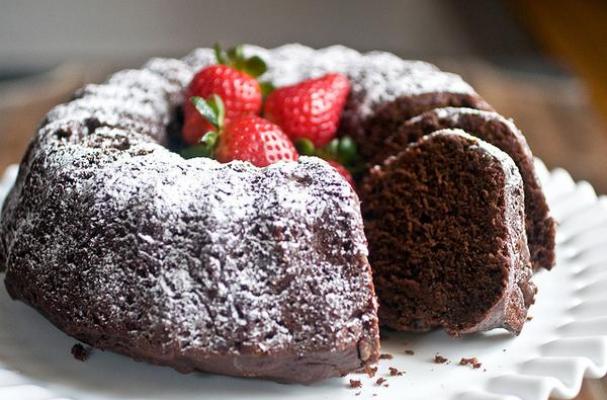 According to the creator of this chocolate bundt cake, the special treat here is that "you can eat it with one hand!" We wouldn't mind one hand full of strawberries and the other grasping a thick slice of this moist and airy chocolate bunt. This cake recipe is provided with vegan options, but any substitution should work.
Chocolate Yogurt Bundt Cake
Courtesy of Post Punk Kitchen
Ingredients:
1 1/4 cups plain or vanilla vegan yogurt (see note)
1 1/2 cups sugar
3/4 cup non-dairy milk (I used almond)
1/2 cup canola oil
1 tablespoon pure vanilla extract
2 1/2 cups all purpose flour
1 cup unsweetened cocoa powder
1 tablespoon baking powder
1 teaspoon salt
1/3 cup boiling water
1 cup semi-sweet chocolate chips
2 tablespoons powdered sugar
Fresh strawberries
Preheat oven to 350 F. Lightly grease a 12-cup Bundt pan.
In a large mixing bowl, whisk together the yogurt, sugar, milk and canola oil until smooth, about a minute. Mix in the vanilla.
Sift in about half of the flour, cocoa powder, baking powder and salt. Mix until almost smooth, then add the remaining flour and hot water. Mix again until smooth. It'll be relatively thick.
Fold in the chocolate chips. Transfer batter to prepared Bundt pan and bake for 55 minutes to an hour. A knife inserted through the center should come out clean, but because of the chocolate chips it might be hard to tell. Just make sure there's not a bunch of batter on it.
Let cool for 20 minutes or so, then invert on to a cooling rack to cool completely. Because the cake is so moist it may take a little tapping to get the cake to release.
Once completely cool, dust with powdered sugar and serve with strawberries!
Image Sources: