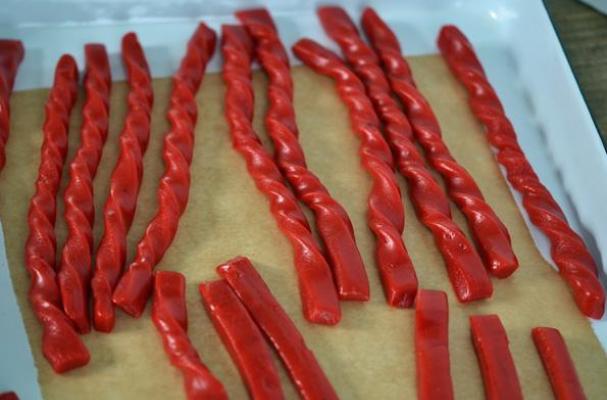 This homemade licorice is absolutely gorgeous, and it's perfect for gluten-free eaters with a sweet tooth. Commercial licorice varieties normally contain wheat flour as a stabilizer, but this DIY red cherry licorice recipe from Gluten-Free on a Shoestring is amazingly delicious without it.
Gluten Free Red Cherry Licorice
Ingredients:
1/2 cup (70 g) high-quality all-purpose gluten-free flour
1/4 teaspoon xanthan gum (omit if your blend already contains it)
1/4 teaspoon kosher salt
1/2 teaspoon cherry flavoring oil (LorAnn brand is gluten-free)
Red gel food coloring, as desired (about 1/4 teaspoon)
8 tablespoons (112 g) unsalted butter, at room temperature
1 cup (200 g) granulated sugar
8 tablespoons (168 g) light corn syrup
1/2 cup (156 g) sweetened condensed milk
4 tablespoons (84 g) Lyle's golden syrup (can substitute an equal amount honey or molasses
For full recipe instructions, click here.
Image Sources:
Categories: