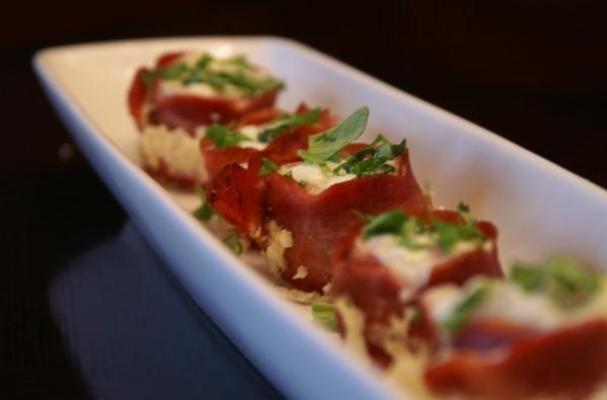 You can make one bite appetizer "bouquets" by rolling a cured meat like bacon into a cone and filling it with a number of interesting toppings. This recipe uses turkey bacon, basil and a blend of egg whites, tomato and avocado to make a creamy and delightfully smoky snack.
Bacon and Egg Bouquets
Submitted by Part Time House Wife
Ingredients:
16 Pieces Turkey Bacon
1 ½ Cups Egg Whites (the whites from 10 Eggs)
½ Roma tomato- Diced
½ Avocado- Diced
Goat Cheese
Salt & Pepper to taste
Fresh Basil
Pre-heat oven to 350°F.
Cook bacon on oiled/cooking sprayed griddle over medium-high heat. Do NOT cook fully just a minute or two on each side. Just enough to cook but not crisp. Remove bacon from griddle and set aside.
Spray mini muffin cups with oil/cooking spray. Line the muffin cups with one piece of bacon each; wrapping it around completely.
In a small bowl whisk the egg whites and stir in tomato and avocado.
Slowly pour egg mix into each bacon bouquet. Top with goat cheese crumbles. Bake for 15 minutes or until all egg bouquets have set.
Remove and let cool slightly and plate them up. Top with fresh basil.
Image Sources:
Categories: