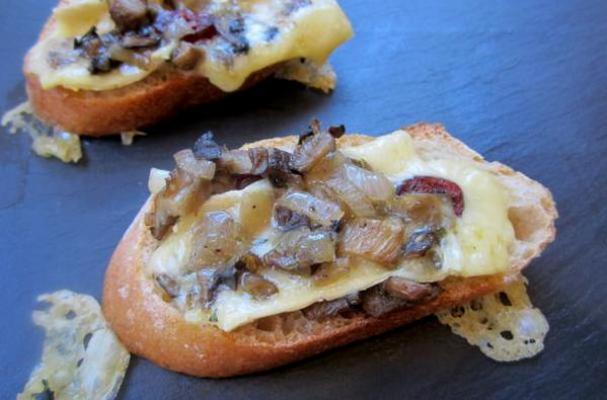 Creamy melted brie, sweet cranberry and earthy mushrooms easily transform simple toasted baguette into a decadent appetizer. It all comes together in about 30 minutes.
Rustic Brie Toasts with Wild Mushroom, Cranberry and Shallot
Submitted by Saucy Tomatoes
Ingredients:
2 - 2 1/2 cups wild mushrooms of your choice (finely diced - I used oyster)
1 shallot (finely diced)
1/4 cup dried cranberry (juice sweetened if possible)
1 tsp fresh thyme (finely minced)
1 rustic baguette
1 tbsp olive oil
1 wedge of brie cheese
Pinch of salt and pepper
Pre-heat your oven to 350 degrees. Heat the olive oil in a sauté pan and add the shallot, diced mushroom, cranberry and thyme. Sauté for a few minutes until the shallot begins to wilt. Season with salt and pepper and set aside to cool.
Slice 12 pieces of brie and place on the bread. Follow with a spoonful of the cranberry, mushroom and shallot mixture and place on an oiled cookie sheet. Bake the toasts for 15 minutes, or just until brie melts.
Image Sources: