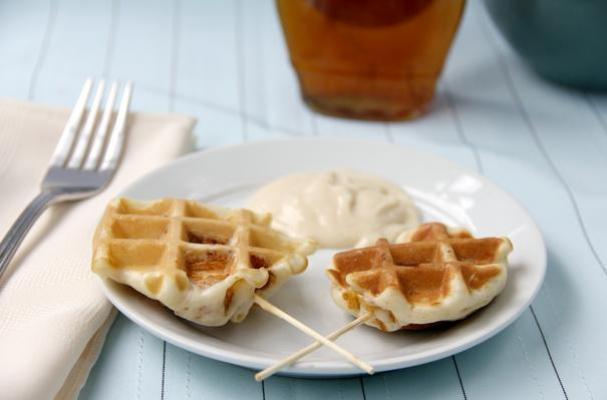 These chicken and waffles on a stick are the perfect gameday treat! This fun appetizer recipe from Snappy Gourmet will score points with your hungry crowd, so serve up a batch or two at your Super Bowl party and hear your fans roar!
Crunchy Chicken Stuffed Waffle Pops and Maple Dijon Dip
Submitted to Foodista by Snappy Gourmet
12 servings
3 pounds boneless chicken breasts
3 eggs
3 tablespoons milk
Salt & Pepper
4 cups crushed corn flakes
Wooden skewers
4 cups Bisquick baking mix
2 1/2 cups milk
2 tablespoons vegetable (or canola) oil
2 eggs
1 1/2 cups mayonnaise
1/3 cup maple syrup
3 tablespoons Dijon mustard
Preheat oven to 425 degrees F. Line several baking sheets with parchment paper.
Cut chicken breasts in half lengthwise, then cut into thin slices.
Whisk together 3 eggs, 3 tablespoons milk, and salt and pepper to taste in large mixing bowl until well combined. Stir in chicken.
Place crushed corn flakes in large shallow bowl. Dredge chicken in corn flakes to coat then place in single layer on lined baking sheets.
Cook chicken at 425 degrees F for about 14-18 minutes or until cooked through. Place a wooden skewer into each piece of chicken.
Meanwhile, preheat waffle iron according to manufacturer's directions. Brush iron lightly with oil or spray with nonstick spray if desired.
Prepare waffle batter by whisking together Bisquick baking mix, 2 1/2 cups milk, oil, and 2 eggs until combined in a large mixing bowl.
Dip chicken into waffle batter then place on waffle iron (skewer sticking out of iron). Cook in batches. Place in warm oven to keep warm if desired.
Prepare dipping sauce by whisking together mayonnaise, maple syrup, and mustard. Serve with chicken.
Tips: While chicken is cooking, preheat waffle iron, prepare waffle batter, and prepare dipping sauce. Be sure to cut the chicken into thin slices so that you can close your waffle iron allowing the waffle batter to cook.
Substitutions: Instead of maple syrup you can substitute honey. Instead of mayonnaise you can substitute plain yogurt.