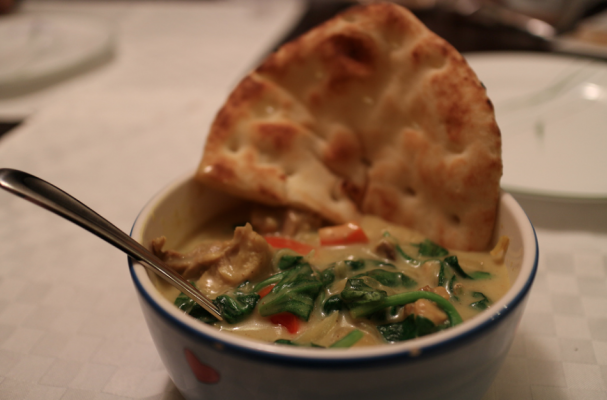 Chicken curry in a hurry can be on the dinner table in less than 30 minutes. Chicken breasts are simply seasoned with salt, pepper and curry powder before being cooked with aromatics. You can use whatever vegetables you have on hand, this recipe suggests spinach, tomato, and a frozen vegetable medley because they only require a few minutes to cook. Other veggies like potatoes, eggplant and cauliflower can be easily added but have a longer cooking time. The curry sauce is a combination of cream and yogurt but feel free to substitute with coconut milk if you prefer a fruitier, more tropical flavor.
Chicken Curry in a Hurry
2 cups Basmati rice
1 1/2 pounds boneless skinless chicken breasts, cut into 1-inch pieces
3 teaspoons curry powder, divided
salt and pepper to season the chicken
1/2 cup chopped onion
2 garlic cloves, finely chopped
1 tablespoon ginger, finely chopped
1 tablespoon canola oil
1/2 cup plain yogurt
1/2 cup cream
2 tablespoons tomato paste
2 cups fresh baby spinach
1 cup chopped tomato
1/2 frozen vegetable medley
Cook rice according to package directions.
Meanwhile, season the chicken with 2 teaspoons curry powder, salt and pepper. In a large skillet, heat the oil over medium-high heat and saute the onion, garlic and ginger. After a few minutes add the chicken and cook until chicken is no longer pink.
Stir in cream, remaining teaspoon of curry powder and tomato paste. Bring to a boil and then reduce the heat to a simmer, uncovered, for 5 minutes. Add spinach, tomato, and frozen vegetables and cook 2-3 minutes longer or until spinach is wilted. Stir in the yogurt just before serving and cook for one minute longer.
Serve over rice.
Image Sources: