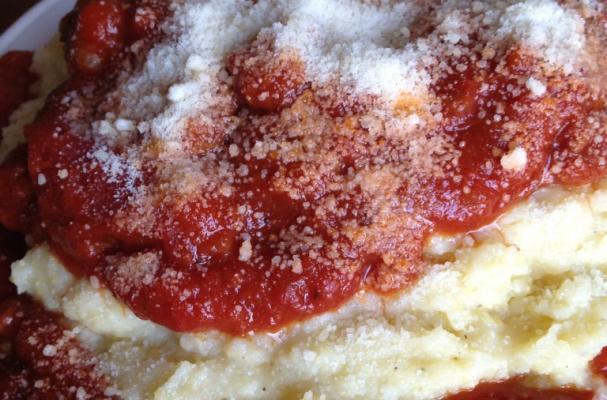 Cool fall nights are the perfect time to have warm comforting meals. Sometimes the most simple recipes are the ones that end up becoming family favorites, and that is certainly true of this next dish. Made from cooked cornmeal and a basic, slow cooked sauce, this one is a winner!
Polenta is a simple dish. It's creamy and satisfying for breakfast or side dish, but you may not have ever thought of it as a main flavor for the entire meal. This recipe for Polenta and Sausage is so tasty. It's made from a few, simple ingredients and the end result is amazing! If you have never had polenta like this before, it's a great introduction.
Cornmeal is an inexpensive food for the pantry, and you can make this recipe, then change it up to suit your family's taste. We love this one!
I(Amy) cook for a large family of 7. You may want to divide this in half, unless your family likes leftovers.
Polenta and Sausage Supper
2 cups cornmeal
8 cups water
1 tsp salt
Bring to a boil, then reduce heat and stir very often. This will burn in a second, so keep an eye on it. I like to stir constantly, until it becomes as thick as pudding, then turn to lowest heat and cover. Stir every 15 minutes, for a total of 1 hour.
1 lb Italian sausage, sliced
2 cloves minced garlic
3 cups tomato sauce-crushed tomatoes work really well here
1 1/2 cups tomato paste (if using homemade) or 2- 6 ounce cans paste
Parmesan cheese
Italian seasonings, salt and pepper to taste
To Make Sauce
Cook sausage and garlic until meat is cooked through and garlic is translucent.
Pour tomato sauce (or crushed tomatoes), and tomato paste over cooked meat. Stir until combined.
Season with additional Italian herbs and salt/pepper to taste
Heat until bubbly-time this to finish at the 1 hour mark to coincide with the Polenta.
In a serving dish, layer Polenta and then a layer of meat and sauce mixture. Repeat a second layer of both.
Sprinkle with cheese and serve right away.
Image Sources: