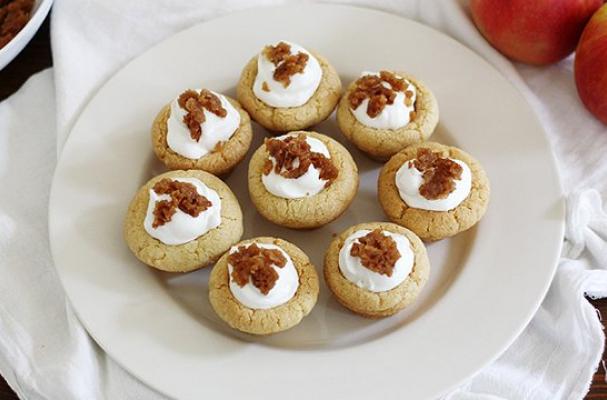 Dutch apple yogurt cookie cups are an easy fall treat that can be enjoyed as a snack or light dessert. Homemade cookie dough is pressed into a mini muffin tin to create the cup. Once baked and cooled, the cookies are filled with a apple scented yogurt cream and topped with buttery bits of streusel. If you want to take these cookie cups one step further, you can chop an apple into bite sized chunks and saute them in a bit of butter, sugar and cinnamon. Top each yogurt filled cup with the apples and the streusel topping.
Dutch Apple Crisp Yogurt Cookie Cups
Courtesy of Yoplait
Cookie Cups:
2 3/4 cups Gold Medal™ all-purpose flour
1 teaspoon baking soda
1/2 teaspoon baking powder
1 cup unsalted butter, softened
1 1/4 cups granulated sugar
1 teaspoon vanilla
1 egg
Streusel:
1/3 cup packed light brown sugar
1/4 cup Gold Medal™ all-purpose flour
1/2 teaspoon ground cinnamon
3 tablespoons cold unsalted butter
Filling:
2 containers (4 oz each) Yoplait® Original 99% Fat Free apple crisp yogurt (from 4-pack)
1/2 container (8 oz) frozen whipped topping, thawed
Heat oven to 375°F. Spray 24 mini muffin cups with cooking spray.
In large bowl, stir together 2 3/4 cups flour, the baking soda and baking powder with whisk until well combined. In medium bowl, beat 1 cup butter and the granulated sugar with electric mixer on medium speed until light and fluffy. Beat in vanilla and egg.
Gradually stir flour mixture into butter mixture until a dough forms. Roll dough into 1-inch pieces; press each piece lightly into muffin cup. Make small indentation in top of each piece of dough.
Bake 10 to 15 minutes or until golden brown. If indentations no longer remain, use back of shot glass to lightly press down center of each cookie cup. Cool in pan 10 minutes. Using butter knife, carefully remove cookie cups from muffin cups to cooling rack. Set aside to cool completely.
Meanwhile, reduce oven temperature to 350°F. In small bowl, stir together brown sugar, 1/4 cup flour and the cinnamon. With pastry blender or fork, cut in 3 tablespoons butter until mixture looks like coarse crumbs. Press Streusel in bottom and up sides of ungreased 9-inch glass pie plate.
Bake about 10 minutes or until edges are golden brown. Cool slightly. With fork, break into small pieces. Set aside to cool completely, about 30 minutes.
To serve, in large bowl, fold yogurt into whipped topping. Spoon filling into cooled cookie cups. Top each with streusel. Store in refrigerator. Makes 24 cookie cups