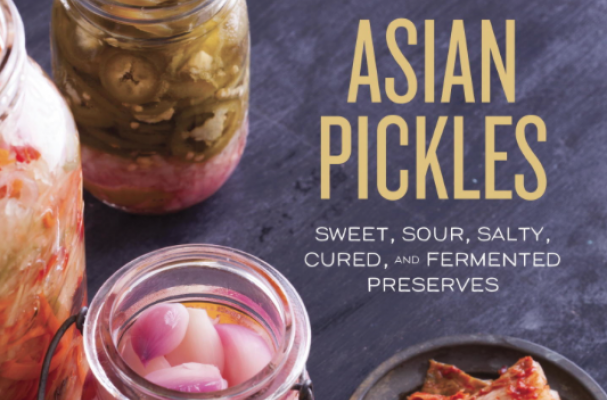 Asian Pickles by Karen Solomon explores a new frontier of preserving that goes far beyond the quintessential dill pickle. Asia has a wide variety of pickled ingredients that utilize unique flavor pairings, unknown to Westerners. Dishes like kimchi, Japanese pickled cucumber salad, and preserved green mango have just begun to make an appearance in mainstream markets but have long been part of the culinary customs of Asia. This cookbook focuses on traditional pickle recipes from Japan, Korea, China, India, and Southeast Asia with an emphasis on the transformational process that occurs when sugar and salt are added to a particular foodstuff. Familiar faces like pickled ginger, pickled daikon radish and carrot, and whole leaf kimchi mingle with lesser known pickled and fermented dishes like squid kimchi, sour celery and red pepper and fresh tumeric and ginger chutney. In addition, this book offers beginning picklers a wealth of resources, easy to follow instructions and quick pickling recipes to boost confidence. Asian Pickles will take you on an unforgettable food adventure filled with flavor.
"Wasabi" Pickled Carrots
Time: About 1 Hour
Makes: About 2 1/4 Cups
Why am I using "quotes" below for wasabi? Because while this is bursting with wasabi flavor, there is no actual wasabi in it. Real wasabi is hard to come by. And the stuff you and I have access to in the grocery store—the green-tinged powder, or that gunk in the tube—is just dreadful; it's full of artificial color, preservatives, and mysterious chemicals, and the flavor shows it. Instead, I hereby direct you to buy yourself a fresh bottle of prepared horseradish, close your eyes, and tell yourself it's wasabi for this recipe and for any sushi you make at home. If you must, add a little green food coloring or spirulina powder for color. Leftover horseradish can be smeared on your roast beef sandwich, or saved for the gefilte fish on Passover.
1 pound carrots, preferably a mix of colors, peeled
4 teaspoons prepared horseradish
1 tablespoon kosher salt
4 teaspoons sugar
1 teaspoon dried chile flakes
1 1⁄2 teaspoons very finely minced or grated fresh ginger (use a Microplane grater if you have one)
Using a vegetable peeler, cut the carrots into ribbons, getting as much out of each carrot as you can; discard (or eat) the nubs. In a medium bowl, combine the carrots with the horseradish, salt, sugar, chile flakes, and ginger and toss very well, using a fork (or two, if necessary) to really work the seasoning into the carrot ribbons. Cover with a drop lid (see page 29) and a 1-pound weight and let sit for 30 min¬utes, retaining any liquid that accumulates in the bottom of the bowl. After a quick toss, the pickle is ready to eat; covered and refrigerated, it keeps for at least 6 weeks.
Reprinted with permission from Asian Pickles by Karen Solomon, copyright (c) 2014. Published by Ten Speed Press, a division of Penguin Random House, Inc. Photography (c) 2014 by Jennifer Martine
Image Sources: