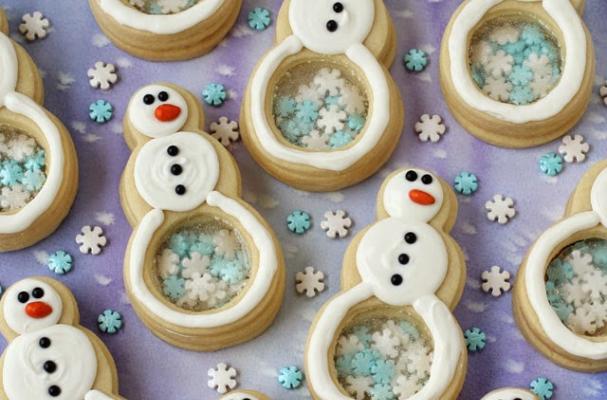 Hungry Happenings is a baking blog known for making fun and creative treats like these awesome 3D snowmen sugar cookies. Two homemade snowmen sugar cookies are sandwiched together using royal icing. A circle is cut out of the bottom to eventually become the viewing window, similar to a snow globe. The best part about these cookies is that they do not require the handling of any melted sugar. Clear mint candies are pulverized in a food processor and then spooned into the circle. When the cookies bake, the sugar melts to create the clear pane. If you are looking for a holiday treat that will truly delight eaters, these 3D cookies are perfect for the job.
Snowflake Filled Snowman Cookies
Recipe from Hungry Happenings
Makes 14 Cookies
Ingredients:
Cookie Dough:
4 - 4 1/4 cups all purpose flour (I start with 4 cups, then add more if needed)
3/4 teaspoon salt
3/4 teaspoon baking powder
1 cup butter, softened slightly
1 1/2 cups sugar
2 large eggs
1 1/2 teaspoons pure vanilla extract
3/4 teaspoon almond or peppermint extract
Candy Window, Snowflakes and Decorations:
25-30 clear mint candies (I used Arcor candies)
1 bag Wilton Bright White Candy Melts
14 orange candy coated sunflower seeds
70 black sugar pearls
1 jar Wilton Snowflake Sprinkles
Supplies:
Wilton two piece Snowman Cookie Cutter
1 1/2 inch round cookie cutter
For full recipe instructions, click here.
Image Sources: