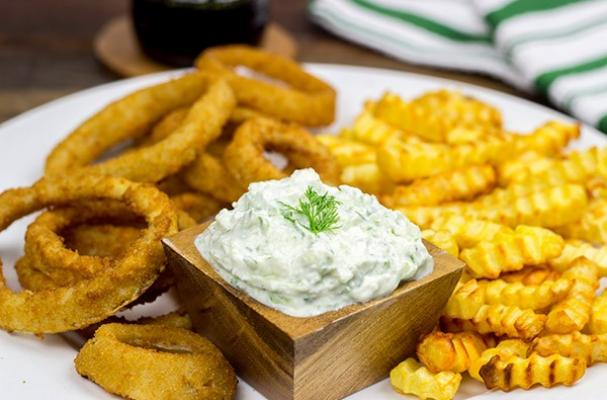 No Super Bowl party is complete without an array of chips and dips to munch on during the game. These quick and easy dip recipes are crowd pleasers that keep guests coming back for more. Make sure you stock up on plenty of tortilla chips, carrots sticks, pretzels and other dippers.
Chile con Queso
Recipe from Julie Blanner
Chile con queso is a spiced cheese dip with quite a kick. Melted cheese is paired with not one but two types of chiles: jalapeno and pasilla chile peppers. Since this recipe uses fresh ingredients, the flavors are bold and bright.
Seven Layer Dip
Recipe from Dessert Now Dinner Later
Why settle on one dip when you can enjoy seven at once? This recipe for seven layer dip stacks refried beans with taco spiced sour cream, guacamole, cheese, tomatoes, olives and green onions. Torilla chips are the classic accompaniment to this delicious dip.
Hummus
Photo Credit: Lior Bakalu
Homemade hummus is as easy as throwing a tub of the premade stuff in a shopping cart. Every good hummus recipe has four essential ingredients: chickpeas, tahini, lemon juice and garlic. Once you know how to make hummus from scratch, you'll be hard pressed to spend $7 dollars on a five ounce container again.
Feta Tzatziki Dip
Recipe from Spiced Blog
Feta tzatziki dip is a versatile dip that goes with just about everything. You can serve it with anything from French fries and onion rings to cucumber slices and pita chips. To ensure your dip remains thick and creamy, salt the shredded cucumber and squeeze out the excess moisture using a paper towel.
Image Sources: