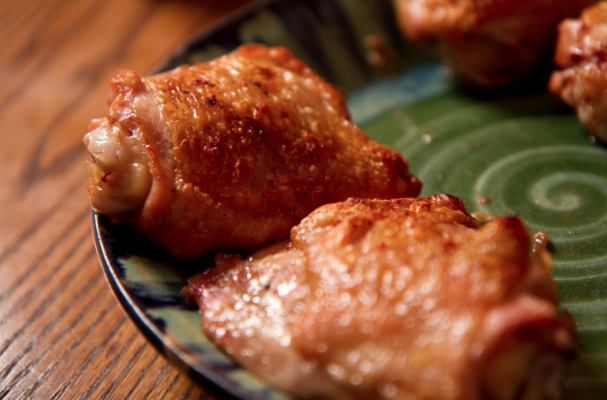 No meal is simpler than seared lemon chicken thighs. This rustic meal serves golden brown thighs flavored with lemon and rosemary with the faintest hint of garlic. The key to crisping the skin is using a cast iron skillet. This pan heats evenly and maintains it throughout the cooking process. The chicken thighs start off in a cold pan so that the fat is coaxed out of the skin slowly instead of burning. You can serve these lemon thighs with a flavorful rice pilaf, garden salad, or even roasted potaotes.
Seared Lemon Chicken Thighs
Ingredients:
6 bone-in chicken thighs (with skin on)
1 lemon, thinly sliced
2 to 3 sprigs rosemary
olive oil
granulated garlic
kosher salt and freshly ground black pepper
Directions:
Step 1: Preheat the oven to 400 degrees Fahrenheit.
Step 2: Generously coat the chicken thighs in olive oil and season with granulated garlic, salt and pepper.
Step 3: Heat a large cast iron skillet over medium high heat. Place the chicken thighs in the pan skin side down and render the fat and cook the thighs, about 13 to 15 minutes. Once the skin has crisped up, flip the thighs.
Step 4: Add the lemon slices to the pan along with the rosemary sprigs. Place the thighs into the oven and allow them to continue to cook for an additional 10 to 15 minutes. Once the internal temperatures reaches 165 degrees Fahrenheit, remove the thighs from the oven and allow them to sit for 5 to 10 minutes before serving.
Image Sources: