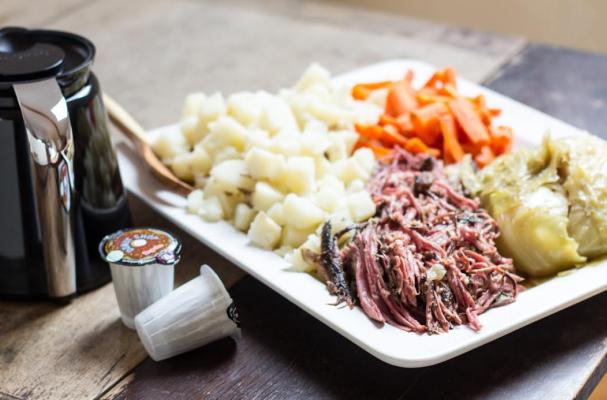 Corned beef is the traditional dinner served on St. Patrick's Day. That being said, most of us only eat corned beef once, maybe twice a year so why not make it stellar? This slow cooker coffee braised corned beef is a twist on the classic. The coffee adds robust flavor to the beef while it simmers low and slow for 8 hours. The result is fork tender corned beef that melts in your mouth.
Coffee Braised Corned Beef
Courtesy of Keurig
Ingredients:
1 Corned Beef, Flat or Point Cut
2 The Original Donut Shop® K-Carafe Pods brewed at the 3-4 cup serving in your Keurig® 2.0 Brewer*
1 Head of Cabbage
6 Large russet potatoes, peeled and cut
1 Pound carrots, peeled and cut into 3 inch sections
Equipment:
Keurig® 2.0 Brewer
Slow-Cooker
Large Pot for cooking vegetables
Cutting board
Bowls to hold vegetables after cooking
Strainer
Directions:
Step 1: Place the corned beef into the bottom of the slow cooker. Brew two K-Carafe™ pods one at a time and pour over the corned beef. Set the slow cooker to low and cook for 7-8 hours (I cooked mine overnight).
Step 2: Cut and prep the vegetables to have on hand for when the beef is ready.
Step 3: Once the beef is cooked, transfer from the slow cooker to a plate until ready for serving. Fill a large stock pot 1/3 of the way full with water and pour remaining coffee liquid from the slow cooker into the pot with the water. Bring this liquid to a boil. Reduce to a simmer and cook the vegetables in order of their cooking time in the braising liquid. First cook the carrots for 25 minutes, using a strainer to remove them from the liquid once they are tender. Cook the potatoes for 18 minutes then remove them from the liquid as well. Lastly, cook the cabbage in the braising liquid for 15 minutes until soft and tender. Remove the cabbage from the pot and use the remaining braising liquid as an au jus for serving.
Step 4: Arrange the vegetables and the corned beef on your favorite serving tray, share, and enjoy!
*Most people have pod coffee brewers these days but if not, brew 6 cups of your favorite coffee and add it to the slow cooker.
Editorial Disclosure: Foodista was not paid for this post.
Image Sources: