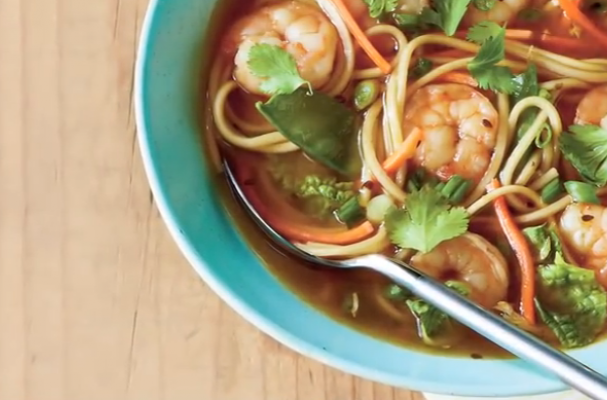 Spicy shrimp noodle bowls are a quick and easy meal for any night of the week. Noodle bowls are great because you can make them with just about anything you have in the fridge. As long as you know how to make the broth, you can add in your favorite vegetables and protein. Whether you like shrimp, chicken or even tofu, this recipe will work.
Spicy Shrimp Noodle Bowl
Recipe from Southern Living
Ingredients:
1 (8.2-oz.) package teriyaki-flavored Asian-style noodles
2 (14.5-oz.) cans chicken broth
1 pound peeled and deveined, medium-size raw shrimp (3 1/40 count)
1/4 cup spicy Szechuan sauce
2 cups shredded napa cabbage
1 cup fresh snow peas, trimmed and cut into 1-inch pieces
3/4 cup shredded carrots
1/4 cup loosely packed fresh cilantro leaves
3 green onions, thinly sliced
For full recipe directions, watch the video below or click here.
Image Sources: