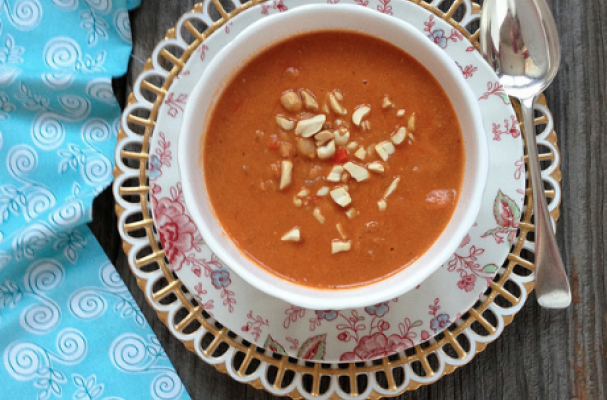 West African peanut soup with chickpeas and spinach is a delicious departure from your standard chicken noodle. This thick and creamy soup is vegan, vegetarian, and totally healthy. Sweet potatoes, spinach and chickpeas are cooked in a vegetable broth with creamy peanut butter and tomato paste. This delicious meal is quick, easy and inexpensive so you HAVE to give it a try.
West African Peanut Soup with Chickpeas and Spinach
Ingredients:
1 Tbsp vegetable oil
4 garlic cloves, finely minced
1 inch fresh ginger, peeled and finely minced
1 medium yellow onion, finely chopped
1 medium sweet potato, about 1 pound
1 14.5 oz. can chickpeas or garbanzo beans, drained and rinsed
1 tsp cumin
1/4 tsp crushed red pepper
1 6oz. can tomato paste
1/2 cup natural style creamy peanut butter
6 cups vegetable stock
1 10 oz. package frozen spinach, thawed and drained of excess liquid*
1/4 cup cilantro, finely chopped
1/4 chopped unsalted peanuts, for garnish
kosher salt and freshly ground black pepper, to taste
Directions:
Step 1: In a large soup pot, heat the vegetable oil over medium high heat. Add the ginger and garlic and cook until fragrant, about 30 seconds. Add the onions and continue to cook for another 5 to 7 minutes or until onions has softened and appears translucent. Follow with the sweet potato and chickpeas and continue to cook, stirring occasionally, for another 5 to 7 minutes. Season with salt, pepper, cumin, and red pepper flakes
Step 2: Push the vegetables to the sides of the pan to create a hole in the middle. Add the tomato paste and peanut butter to that space and mix until they begin to look "melted." Add the vegetable stock and mix all the ingredients together. The tomato paste and peanut butter should dissolve into the stock and appear as one cohesive broth.
Step 3: Bring the soup to a boil and then reduce heat to low and allow the soup to simmer for 15 to 20 minutes or until the sweet potatoes have softened. Mash half of the sweet potatoes with a wooden spoon to help thicken the soup. Add the spinach and cook for another 5 minutes. Garnish the soup with fresh cilantro and chopped peanuts. Serve with brown rice or couscous.
*Note: Wring out the excess liquid from the spinach using a kitchen towel or paper towels. Place the spinach in a towel, roll it up and twist. Repeat this step several times until the spinach no longer releases any water.
Image Sources: